How to grow your business through the power of partnerships
A healthy business partnership can help you reach new audiences and bring in more leads. Learn what to look for in a partner, where to find them, and how to start building a mutually beneficial relationship.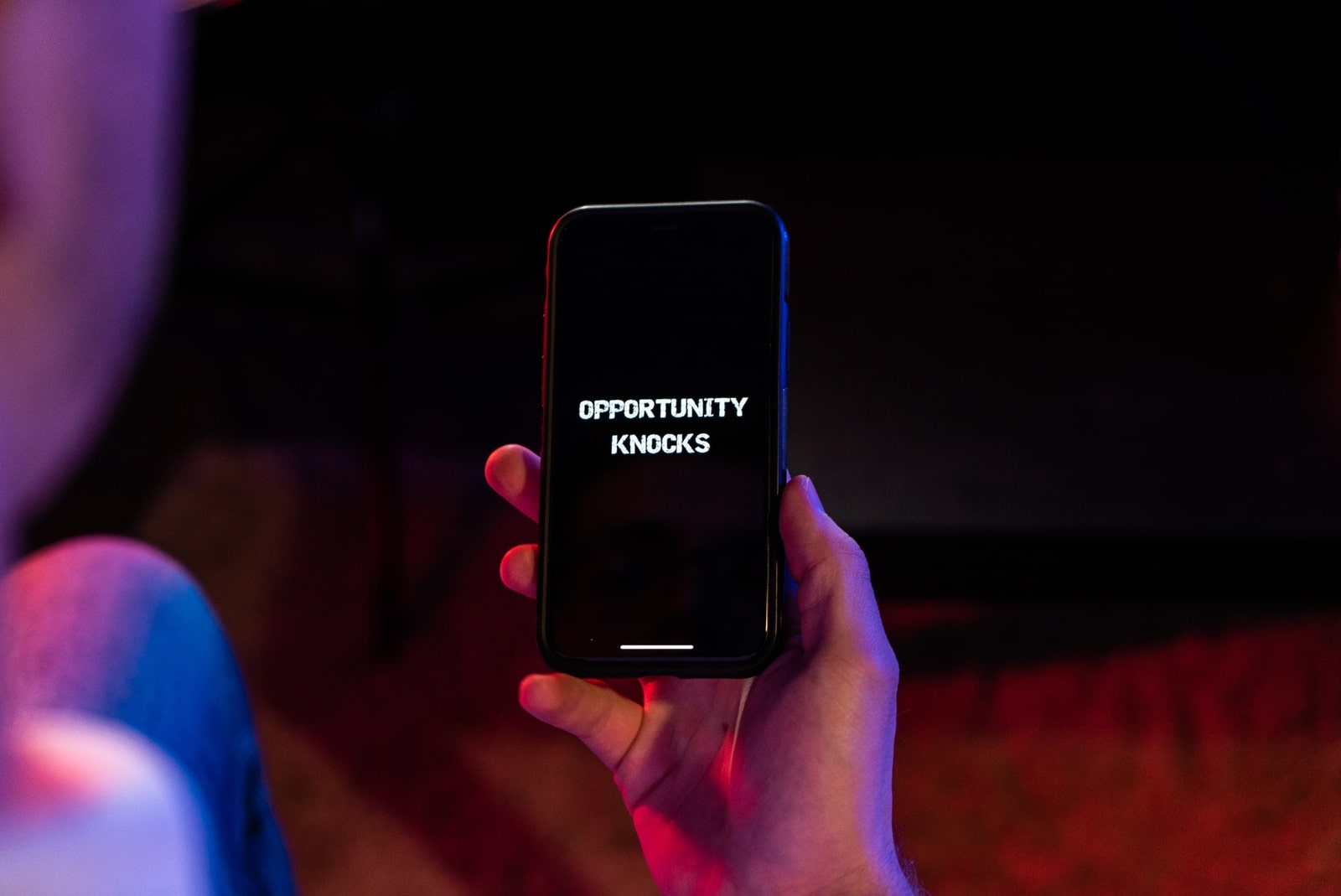 What's the number-one way Australian freelancers source new work? 
According to a 2019 survey from Freelance Jungle, it's all about referrals. In fact, referrals take up the top four slots from the survey.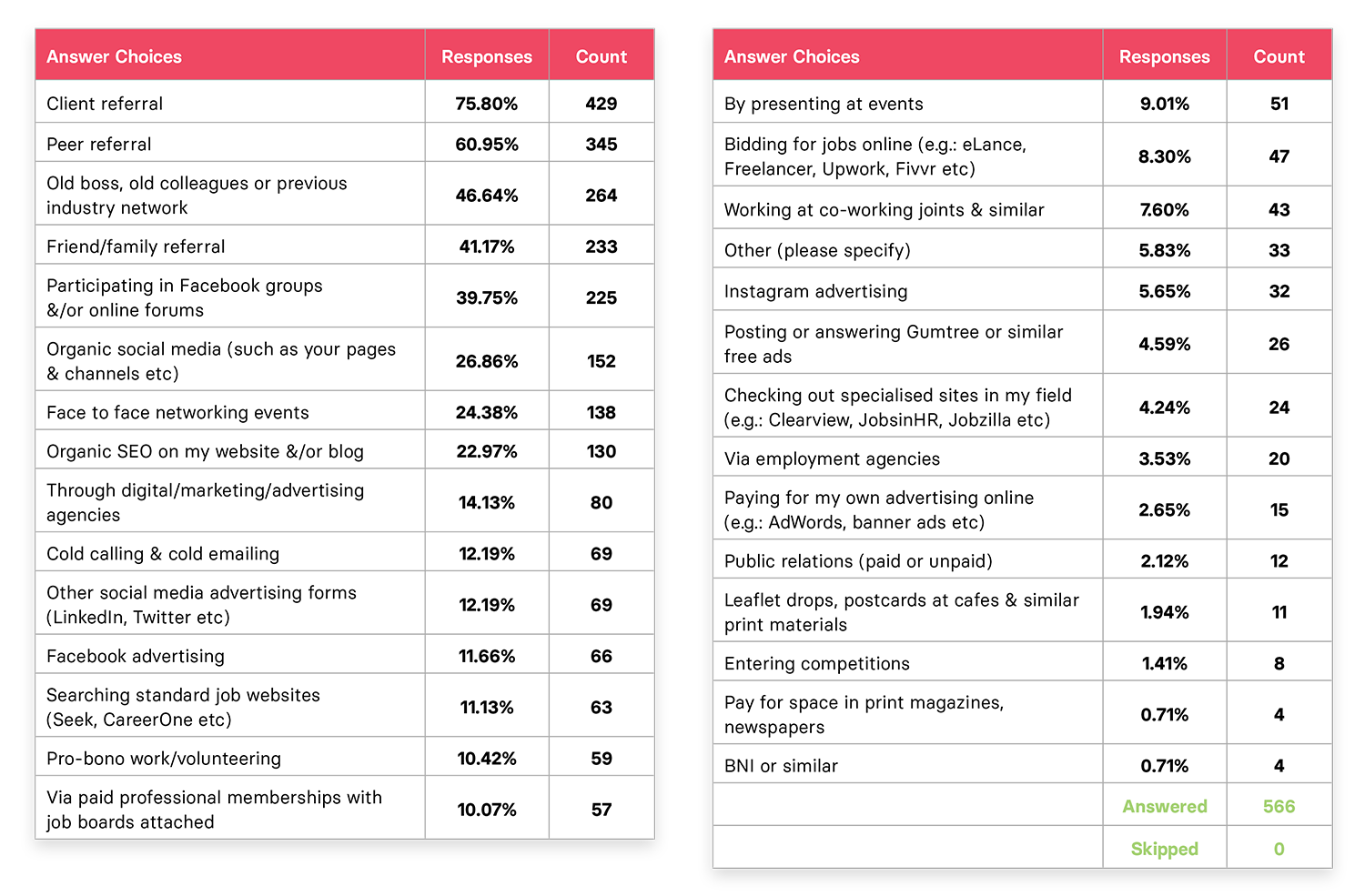 Leads that come to you through people in your network are often easier to convert into paying clients. The person who referred you is already endorsing your skills, so you won't have to spend so much time convincing the lead that your skills are a worthwhile investment. 
But in order to receive referrals, people need to know about your business and what services, products, or skills you offer. That's where partnerships come into play. 
If you start building relationships with people who share the same target audience as you, the number of referrals you get will naturally go up.  
In this article 
Learn about the different types of partnerships

Find out what traits to look for in new relationships

Discover where to find people to partner with

Use the examples to start reaching out to new partners
Partnerships: What do they mean and how do they work? 
Later in this article, we'll get into exactly how you can go about finding and connecting with people who are good options for partnerships. But before we get into that, let's talk about the nature of partnerships and how they work. 
There is a golden rule when it comes to building partnerships:
‍It must be mutually beneficial for all parties involved. 
Certainly, you're likely focused on the value a partnership could bring to your business. But you aren't likely to launch any partnerships if you don't shift your focus, so that you are clearly communicating what value you bring to your partners. 
When suggesting a partnership with someone, make the idea sound as easy and appealing as possible. Since you're the one reaching out, you should come prepared with general ideas about how the partnership might work. 
Don't come on too strong—you don't need a precise, detailed plan when you first reach out. Instead, give one or two general suggestions, putting the focus on the value you can bring their business, and gauge their reaction. They may come back with more ideas that you hadn't thought of.   
Not sure what kind of partnership benefits you can suggest? Here are a few ideas to get you started: 
Referral programs 
The simplest type of partnership is a referral program of some sort. You can suggest offering discount codes or referral kickbacks (like $100 for every converted lead the partner brings you), but you can also keep it casual. Try saying something like, "I loved your portfolio, and my clients often ask me if I know anyone with your skills. Perhaps we can share leads with each other?" Follow up with some examples of your own work to show them what you can do, and soon you'll have a new referral source in your network. 
Social media collaboration
If you and your potential partner are both active on the same social media platforms, then you already have some excellent partnership opportunities at your fingertips. Try sharing examples of each other's work with your own audiences, hosting a live social event together, or even doing a "social media takeover" for a day or week, where you post on each other's behalf. On a more casual level, you can commit to commenting, liking, and re-sharing each other's posts to increase your overall engagement organically. 
Guest blogging
Many small businesses and freelancers have a blog they use to demonstrate their expertise and communicate with their audience. If you have a blog of your own, you can suggest a mutual guest blogging collaboration—each of you can write a blog post for the other, and subsequently share it with your audiences. Bonus: This method also can also improve your website's search engine optimisation. You can read more about SEO tactics for freelancers here.  
Email mailing list features
Email lists give freelancers and small businesses a direct line to their most dedicated audience members. If your target partner uses email marketing, getting your business name featured in one of their mail-outs could be invaluable. This strategy may work best if you have something to offer their audience, like a valuable piece of relevant content or a discount code for your services. 
Creating something together
If you find a partner you really enjoy working with, consider taking on a larger collaboration with them. For example, a graphic designer and a web designer might join forces to create a short YouTube course on branding, and subsequently share it with both of their audiences. 
What do successful partnerships look like? 
As you can see, there are many different types of partnerships out there, and each is unique to the businesses and individuals involved. 
But no matter what type of partnership you're going for, there are a few common characteristics that make up all healthy business partnerships: 
Their audience overlaps with yours. For a partnership to succeed, you and the other business must share the same or similar target audiences. The ultimate goal is to provide each other with leads, which means your ideal customers and clients must have the same wants, needs, and goals. 
They aren't direct competitors. The partners you choose should offer products and services that complement yours. If they offer the same exact services or products as you, it will be difficult for much to come of the partnership. Of course, you can partner with very similar businesses—for example, an email copywriter and an ebook writer are both writers, but have unique enough skill sets that a partnership could be worthwhile.  
They are actively engaged with their audience. When you are looking for partners, take time to see how they engage their audience. Do they have a social media presence? Do they send out newsletters? Are they well-known within their niche or industry? The more active someone is, the more people they can introduce you to. 
The chemistry is there. Like any relationship, business partnerships will last longer and be more beneficial if you have a genuine connection with the person or people you're working with. Your relationship with your partner should be founded on mutual respect, and you should find your interactions with your partners enjoyable and productive. 
Where can you find partnerships?  
Using the criteria above, you should have a good idea of what types of businesses or individuals would make a good partner for you. 
The next step is finding candidates for partnerships, so you can start building relationships. Below are some of the best methods for doing just that—but hold off on reaching out to people until you've read our final part of this article on how to approach people the right way. 
Networking events (in real life or online)
If you enjoy meeting people face to face, then networking events can be an excellent source for new relationships. In some parts of the country, networking events are happening live again—and the Covid pandemic has created many digital networking events that serve the same purpose. 
Eventbrite and Meetup are an excellent resource for finding events in your area—though you can also use Google to broaden your search for digital events. Try looking for webinars, conferences, or meet-ups that are likely to attract people who you can form partnerships with. For example, if you're a freelance wedding photographer, it might be a good idea to visit a wedding expo in your city. There, you can find caterers, wedding planners, and venues that will share the same audiences as you.  
Finding partners on social media
If traditional networking events aren't your style, you still have plenty of opportunities to meet and network with people through social media. 
If you're already using social media platforms as part of your marketing strategy, it's likely you have some potential partners in your network already. If not, you can easily find other people talking about the same topics as you by searching through hashtags or looking at who your followers follow. 
If your followers are on LinkedIn, check out our guide on mastering LinkedIn as a freelancer. 
Part 1: Optimising your LinkedIn profile
Part 2: Finding leads on LinkedIn
Part 3: Growing your business with LinkedIn
On both Facebook and LinkedIn, you can use groups to find people who share your same audience. Simply search for groups related to the types of people you want to partner with—for example, a freelance accountant could search for groups related to small businesses or financial advisors. 
Subreddits and online forums
The internet is full of forums centred around different subjects and niches, and many of the most popular can be found on Reddit. On that platform, there are thousands of people subscribed to channels about copywriting, startups, digital marketing… and that just scratches the surface. It's very simple to find groups related to your niche by using Reddit's search function. 
Other online forums are hosted on unique websites, or in private Slack and discord channels. You can find forums where your potential partners are hanging out by performing Google searches like "best graphic design forums" or "slack channels for copywriters." 
How to approach people for partnerships
Once you've identified someone you think might be a good addition to your network, how do you go about reaching out to them? Jumping in too quickly with a demand for a partnership will likely turn people away, so the key is to focus on organic relationship building. 
If you've met someone in person—at a networking event or elsewhere—then you may be able to start an organic conversation right off the bat. (If not, make sure you get their contact information later so you can use the approach below). 
When meeting someone through the internet—via social media or through people in your network already—you need to invest the time to demonstrate that you're genuinely interested in the person you've contacted, as well as show them why your business also brings value. 
Here are some tips to get ready to approach a potential partnership lead, with examples you can emulate in your outreach strategy. 
State the value you bring outright
Above all else, remember the golden rule: Partnerships must offer mutual benefits. You should only reach out to someone and suggest a partnership if you are certain you have something to offer in return. When you first reach out, put the value you bring front and centre. Once you have developed the relationship, you can then start talking about how they might help you in return.  
Example: "As a freelance social media expert, I often come across clients who want help growing their presence through SEO as well. Since you're an expert in SEO, it would be great to have you in my network so I can pass referrals your way." 
Do your research first  
Before you reach out to anyone, take time to look deeper into their business. Using their social media profiles and business website, see what you can learn about who this person is, what matters to them, and what goals they're trying to achieve. 
As you're researching them, take note of any social media posts, blogs, case studies, or other types of content that resonate with you. You'll reference these when you reach out, so they know you're genuinely interested in them and their business. 
Example: "I shared the recent Instagram Reel you posted about the power of animations in marketing with three of my clients. Animation is something I've been advocating for a while, so this was incredibly helpful for me!"  
Consider starting the relationship on social media 
Social media gives you the opportunity to start a genuine, engaging conversation without making a cold pitch right off the bat. 
Instead of sending a cold email, consider following them on social media and giving insightful comments on their posts, or re-sharing their content that you find useful.
Eventually, this can turn into a very natural conversation, at which point you can float the idea of forming a partnership. 
Example: "I've been following you on LinkedIn for a few months now—you've probably seen me commenting on there! Your last post made me want to reach out because…"  
Be clear about what you're proposing
While you don't want to be too aggressive in your suggestion for a partnership, it's still important to make sure they know generally what you are proposing, and if they're interested, what the next steps are. 
It may be best to offer a few different options, so that they can choose what best fits their schedule and marketing style. And be sure to leave the door open for their ideas as well. 
Example: "Since our audiences overlap so much, I'm wondering if you might be open to collaborating in some way. I've written a few guest posts for other blogs, which you can see on my portfolio, or I'd be open to coming up with a cross-promotion of some sort. I'd love to talk more about it, if you're open to something like that. What's the best way to connect with you?"
Edit and revise to cut out the fluff
Finally, before you hit "send," read through your email again to make sure it looks good. As you read through, cut out any fluff, particularly in the intro—you want to get to the point as quickly as possible. 
Read the email out loud to yourself, and be sure it's completely free of typos and errors. When it looks good to you, hit send, and set a reminder for yourself to check in a few days later if you haven't heard back.  
For freelancers, building partnerships is one of the fastest ways to grow your own business. If you keep the focus on mutual benefits and follow our other tips in this article, you should be well on your way to increasing the size of your network and reaping the benefits of new business. 
Cover Photo by Dylan McLeod on Unsplash
---
Join newsletter
600) ? true : false" >
ABOUT ROUNDED
Invoicing and accounting software for sole traders. Get paid faster and relax at tax time.