Free Invoice Templates for Sole Traders & Freelancers
Rounded makes invoicing easy for sole traders and freelancers. Start sending invoices today with these free templates for Word and Excel.
Article contents
−
+

As a freelancer, invoices are the lifeblood of your business. Without proper invoicing, you won't be able to get paid, and you'll face issues when it comes time to file taxes as a sole trader.

In this article, we've put together basic and tax invoice templates you can download, update with your information, and send to your clients.
For Rounded users, we make invoicing easier than ever. With our software, you can:
Brand your own invoices
Automatically generate invoices with your logo, branding, and personal style.
Import your hours
Use Rounded's time tracker as you work, then upload the hours directly to your invoices with one click
Send recurring invoices and reminders
Set the time and date you want invoices to go out, and automatically chase up any overdue invoices.
If you aren't ready to sign up as a Rounded customer yet, we've still got you covered. Below, you'll find two free tax invoice templates you can download in Word, Excel or Google Document format with all the necessary information included.
We've also put some information together about what needs to be included on invoices for sole traders in Australia.
Invoice templates for Word & Excel
The links below will take you to a Google Drive Folder. All files can be downloaded/copied to your own environment.

Invoice Templates for Australia (with GST)

What information do I need to include on my invoices?
The invoice templates above make it easy to include all of the correct information on your invoices. But just in case you have more questions, we've broken down each element of a proper invoice.
Note: Australian freelancers and sole traders, be sure to refer to the additional items toward the end of this list.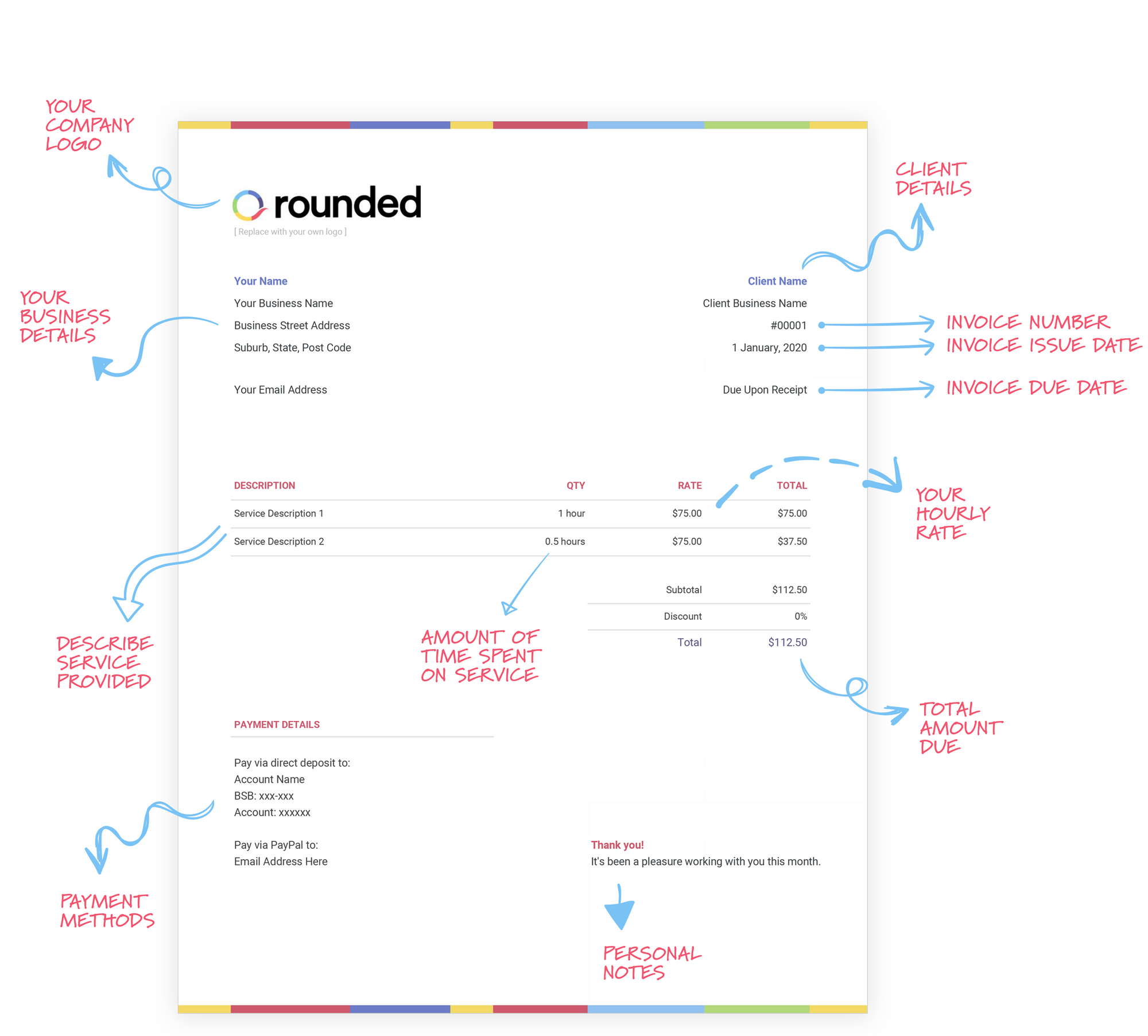 Information for all invoices
Your Logo
While this is not a mandatory requirement, putting your logo on your invoices is a smart move. This helps your clients remember who you are and makes your invoice feel more personalised.
Your Business Details
This is a vital part of your invoice and should always be included. Your business details include your own name and your business name (if you are registered as a business rather than a sole trader), as well as your business address. For many freelancers, their business address is their home address. Finally, include your email address so your client can contact you with any questions.
Invoice Number & Date
Every invoice you create needs to have a unique number. Typically, your first invoice will be numbered as #00001, your second #00002, and so on. Do not repeat numbers, even if you cancel and reissue an invoice. You will also want to include the date you issue your invoice.
Due Date
The due date dictates when you expect your client to submit payment. For immediate payment, you can simply put "Upon receipt." You can also stipulate a specific date, or write something like, "Within 7 days of receipt." For Rounded users, you'll be able to automatically send a polite reminder after a certain number of days if a payment is late.

Description of Work
In the body of your invoice, describe the work you undertook for your client in detail. If it's something you do on a recurring basis, you can write something like "Blog Writing Retainer, January 2020". If it's project-based work, write out each task you are charging for clearly. For example, you may include something like, "Restaurant Photography Shoot - Day Rate" as well as "Photography Editing - 4 Hours."
Pricing
Next to each item on your invoice, you will need to list the price you are charging per item. Be sure to list out the currency you are charging (such as AUD or GBP). At the bottom of this section, include the subtotal price for all items on the invoice. If you are giving a client a discount of any kind, list it here as well and subtract it from the subtotal.
Payment Details
Toward the bottom of the invoice, include the best methods for your client to submit payments. You can list your banking details for direct deposit, your information for services like PayPal or Stripe, and if you have them set up, links to online payment platforms via bank card. As a Rounded user, you can set up all of this information once and have it appear automatically each time you create an invoice.
Personal Notes
Finally, leave space on your invoice for any additional notes you might want to give to your client. For many people, this is simply a place to say thank you, but what you put here will be up to you. You can also leave this area blank if you prefer.
Additional information for Australian invoices
If you are registered as a sole trader or business owner in Australia, there are a few more details to include in addition to what's listed above.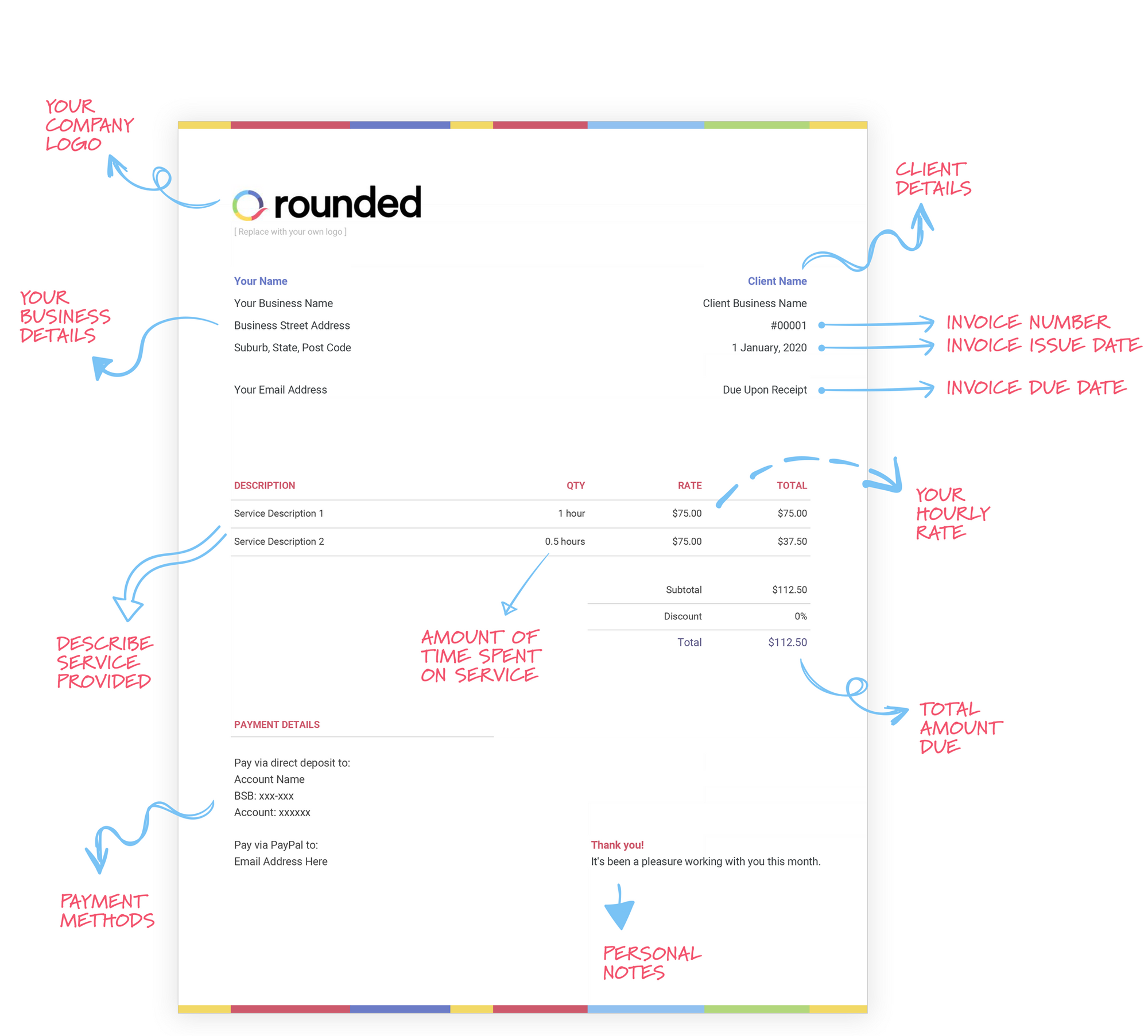 Title of "Tax Invoice"
Sole traders who are submitting invoices that require GST must include the words "Tax Invoice" on their invoices. This is a subtle but important detail, as it's something the Australian Tax Office requires. If you are not registered for GST, then you can leave this off or title it simply as "Invoice".
Your ABN
If you are registered as a business in Australia, then you must put your Australian Business Number (ABN) on every invoice. Learn more about how to register for an ABN here.
GST Calculation
Finally, if you are a sole trader in Australia, and your client is also in Australia, you need to calculate the Global Sales Tax (GST) and list it on your invoices. GST is a 10% fee sole traders and businesses must charge if they are earning more than $75,000 a year. You can learn everything you need to know about registering for GST here.
---
Join newsletter
600) ? true : false">
ABOUT ROUNDED
Invoicing and accounting software for sole traders. Get paid faster and relax at tax time.