LinkedIn for Freelancers 3: Using the platform to grow your business
Central to developing the right relationships and finding opportunities is how you network, market, and promote yourself. Having a LinkedIn presence is a solid start, but if you use the platform consistently, you can build an audience and let the leads come to you.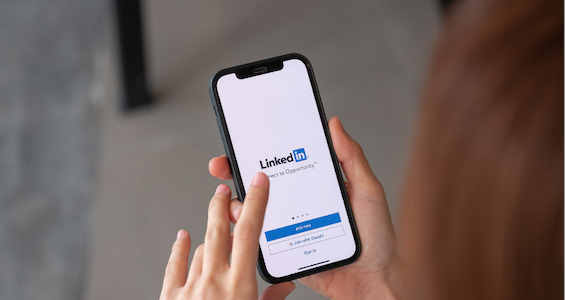 If you've already read the first two parts of this series, about building your profile and finding leads on LinkedIn, chances are you're starting to feel more comfortable on the platform. 
The next step is to start using the platform to build an audience and generate inbound leads. 
How do you do that? I'll show you the best strategies for making a name for yourself on LinkedIn, and making it easy for leads to find and contact you directly.  
LinkedIn Strategy: It's all about visibility, value, and patience 
There is no single strategy that will work for all freelancers on LinkedIn, but there are three important factors that apply to anyone using the platform to grow their business: 
1. Becoming more visible on LinkedIn
There are 740 million LinkedIn users as of 2021, so visibility can be a challenge (especially if you're in a crowded industry). Your profile is a major factor in how visible you are, but there's more to it than that.
To really make LinkedIn a lead-generator, you will need to frequently share content and interact with other users. The more you do this, and the way you do this, will have a big impact on how quickly you can grow an audience. 
2. Bringing value to your audience
People do not log into LinkedIn looking to be sold to. So when you are posting content to the platform, you won't get far if you are being purely promotional. Instead, think about what value you can bring to the table. 
Unlike the other major social platforms, LinkedIn is less about entertainment and more about education. 
Find ways to demonstrate your expertise and knowledge, your audience will grow organically. People will share posts that they find valuable, and follow you when they see you're posting high-quality content regularly. 
3. Being patient with the platform
In this article, we are talking about a long-term strategy for LinkedIn. You will need to use the platform several times a week, and frequently post and share valuable content, if you want to see returns. (For a shorter-term lead-pitching strategy, see part two of this series.) 
Often, it can take months for a person to see enough of your posts and trust you and reach out to ask for help. But if you keep up with it, and invest time upfront knowing you probably won't get leads right away, the platform can become a powerful tool for filling your pipeline. 
Best practices for posting on LinkedIn
By far the most commonly used feature on LinkedIn for all users is the "post" feature. Similar to Facebook and Twitter, it's featured at the top of your feed, and it's a good idea to get pretty familiar with it—it's an incredibly valuable tool for building an audience. 

What you post on LinkedIn will depend greatly on your business and who you are trying to target. Let's review some best practices and clever methods to start creating posts that resonate and attract business. 
How often should you post? 
LinkedIn isn't very forthcoming about most of its algorithm, so the platform hasn't told us how often it wants you to post. But many experts will agree that it's wise to post several times a week. Hubspot's recent study suggests no more than 5 times a week.
When you're just starting out, it's important to post frequently and consistently—four or five times a week if you can. As your audience grows, you can likely cut down to posting two or three times a week—but maintaining consistency is key. 
Remember, growing an audience on LinkedIn takes time. It is very normal for your first few posts to only receive a handful of likes and views. As you spend more time posting, these numbers will go up. 
What kind of things should you post?
That the key to using LinkedIn effectively is to share value.
This value can come in many different forms—content you've created, information you've discovered, experiences you've had, or unique takes on topics relevant to your industry. 
If you're looking for some prompts and examples to help you get started, I highly recommend the free 30 Days Social program developed for LinkedIn. It comes with questions and examples of excellent posts to inspire you.
How can you make your posts more engaging? 
There are thousands of posts on LinkedIn every day, so how do you make sure yours stand out? Here are some tips: 
Avoid walls of text. Use short sentences and paragraphs, bullet points, or even emojis to make your posts easy for readers to digest.
Ask a question. You want to encourage people to comment on your post, so pose a direct question at the start and/or finish of your post. 
Use imagery and video. Visual content is a great way to mix up what you're posting and grab attention. You can attach graphics and video content directly to your posts. 
Repurpose your blog content. Do you write blogs for your own website or elsewhere? You can repost them on LinkedIn quickly and easily using the "Write article" button in the same area you post. This will then allow you to create an article, which will be hosted on your platform and shared with your audience. (Pro tip: Add a link to the original article at the top, so people can easily find your website.)
Use hashtags. Just like other social media platforms, hashtags at the bottom of your posts can help people find your content. LinkedIn will make suggestions for popular hashtags as you type—stick to only four or five hashtags per post. 
Experiment and have fun. You won't know what types of posts resonate with your audience until you try out different styles. Try a super short post, or a very long one. Make a joke, tell a personal story, or make a meme. Over time, you will land on a voice that people will recognise and enjoy.  
 Using LinkedIn polls to develop leads and relationships
There is one type of post on LinkedIn that can bring a lot of quick value—the LinkedIn poll. 
In the same area where you would create a normal post, you have the option of putting together a quick poll.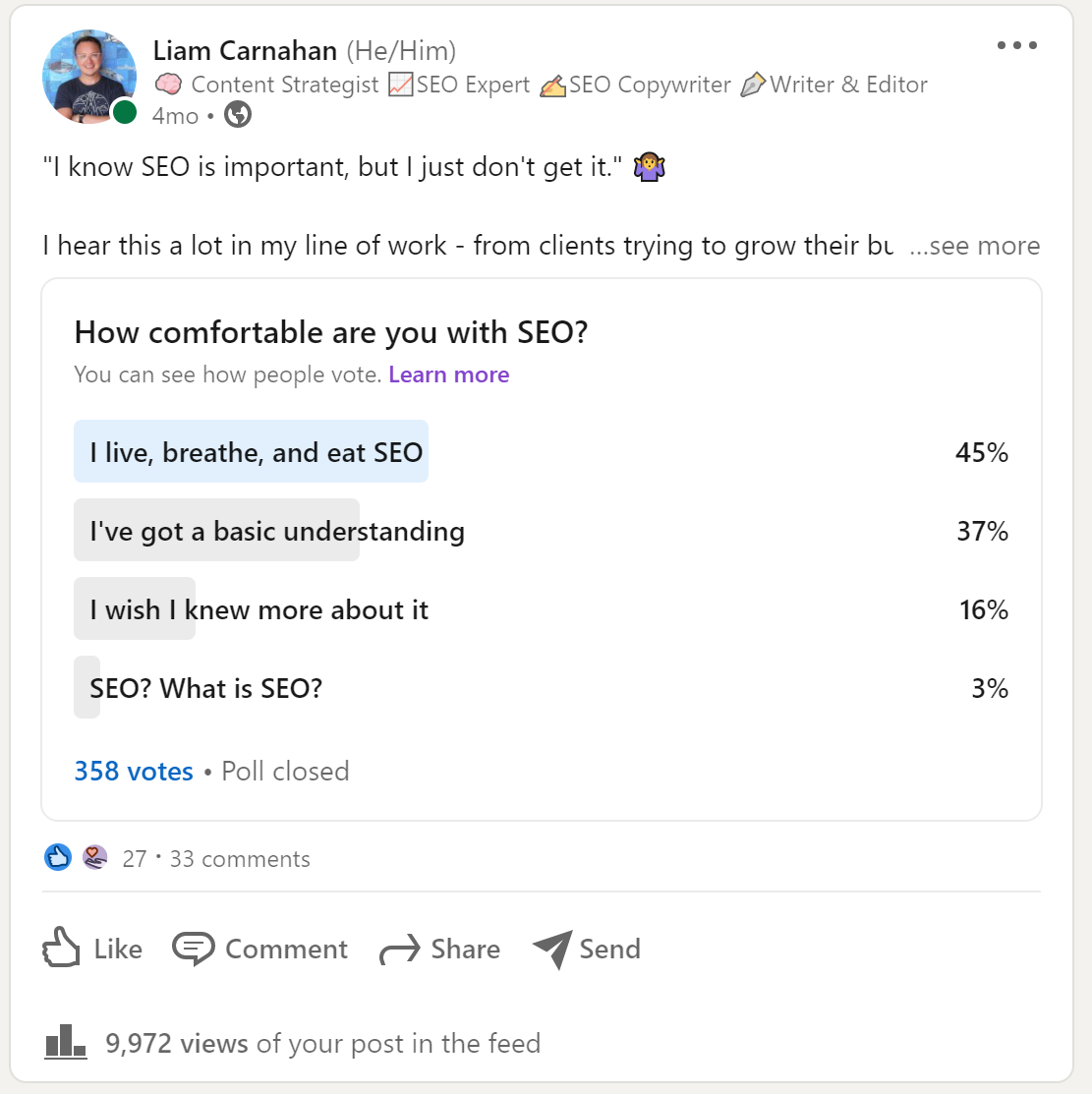 Not only are polls a great way to generate conversation on LinkedIn—they also can give you some really valuable insights into potential leads. 
After you post a poll, you are able to see the names and profiles of anyone who answered the poll, and you can see what answer they chose. 
So in the example above, the poster, Liam, could see the list of anyone who said they wanted to know more about SEO. He could reach out to those people individually, knowing that they are in his target audience.  
Why you shouldn't post links to outside websites
It may seem natural to use LinkedIn to share a link to a page on your website or an article you find interesting. But posting third-party content within the body of your LinkedIn posts isn't a good idea. 
LinkedIn wants to encourage people to stay on its platform, so posts that have links to outside websites are less likely to show up on people's feeds. Instead, try this: 
If you created the piece of content, share it as a LinkedIn article or embed it in your post if it's video/graphics. 

If you want to share a piece of content that you don't own, create a post about that piece of content explaining why you find it valuable. Within the body of your post, tell people that links to the content are available in the comments section, and then post the links you want to share as a comment right after you hit "Post." 
When is it ok to promote your business in LinkedIn posts?
Most of the posts you create on LinkedIn should be about sharing knowledge and creating value. In a way, doing this is promoting your business—you are showing potential customers what it is you do and why you do it so well. 
But sometimes it is ok to promote your business more directly, provided you do it tastefully and with reason. 
For example, if you receive an excellent piece of feedback from a client, it's a good idea to turn this into a post. Share the quote, and then explain a bit about the project or customer experience. This will promote your business while shedding light on how you work.  
Interspersing these kinds of posts among others that are less promotional is a good strategy to keep people interested while still reminding them of what you do. 
Your LinkedIn profile page is also a great place to promote your business. You can use the Featured section to showcase your portfolio, top posts, and any other content you like. 
Building relationships out of your new interactions
The more you post on LinkedIn, the more you will find opportunities to engage with new people. In fact, if you post enough, you'll start receiving connections and follow requests and maybe even some direct messages. 
These interactions are key to using LinkedIn as a lead-generation platform, so here are some things to keep in mind: 
Interacting with other users' posts 
LinkedIn works best when it's a give and take—you provide value in your posts, and you learn and interact with others who are posting as well. 
Giving people likes and leaving thoughtful comments on their posts will help your chances of becoming more visible on LinkedIn. The network will see you interacting with others and be more likely to show your posts to them in the future. 
Always be genuine, thoughtful, and respectful in any comment you leave. Ask questions and share your own insights, and if you come across a post you really like, reshare it to your own timeline. The effort you put into others' posts will be repaid to you—not to mention you might learn something from your connections! 
 Interacting with comments on your own posts 
If you are posting engaging content and asking questions in your posts, you are bound to start getting some comments on your posts. When this happens, it's always a good idea to respond to the comment as soon as you can. 
This will show your followers that you are genuinely interested in what they have to say, and it has the added bonus of making your post appear more frequently in people's feeds. 
Filtering through your connection requests
The more frequently you use LinkedIn, the more connection requests you'll see in your inbox. Many of these will come from random users who just want to inflate their number of connections.  So it's best to vet the connections you receive and approve those who may be of value to your business. 
When you receive a request, visit the user's profile to see where they work, what their job title is, and what recent activity they've had on LinkedIn. 
If they seem like they might be a potential lead or someone who you want in your network, accept the request and follow up with a direct message. Try something simple like: "Hello! Great to meet you. I'm curious, what made you want to connect with me?"  Or you can mention something that caught your eye on their profile, and use that to start a conversation. 
What are the benefits of LinkedIn premium?
If you are already getting lots of value from being a LinkedIn member, you may want to consider their Premium subscription options. 
There are four options when it comes to a paid LinkedIn subscription, with the lowest cost "Career" plan coming to $29.99AUD per month. With that plan, you get: 
5 InMails per month—instant messages you can send to anyone, even people you aren't connected with

Option to make your account Open, allowing anyone on LinkedIn to message you at no cost 

Ability to see who has viewed your profile in the last 90 days 

Job and career insights, as well as job recommendations 

Access to thousands of LinkedIn Learning Courses, where you can pick up new skills relevant to your business
More expensive plans offer additional InMails every month, as well as things like unlimited browsing. LinkedIn offers a free month trial, so you can try it out to see if the benefits are worth the expense. 
A Final Word
LinkedIn is an important part of the business toolkit for millions of self-employed professionals all over the world. It evolved from its early function as a digital rolodex into a tool for branding, marketing, selling, advertising, connecting, hiring, debating, publishing and learning.
I hope you found my insights in this series useful. For more advice about how to develop a marketing strategy and bring in more clients, be sure to sign up for our email list. 
---
Join newsletter
600) ? true : false" >
ABOUT ROUNDED
Invoicing and accounting software for sole traders. Get paid faster and relax at tax time.