September 2023 - Product Update
During the first half of 2023 we focused our attention on a lot of "under the hood" improvements to ensure stability, security and performance. During that period we also made significant changes to our approach when it comes to delivering improvements and new features to Rounded. These new processes have been in place over the last six weeks and we're very pleased to see the results - useful updates in your hands, faster. With that said, spring is well on its way and we've got some fresh new features to come with the sunshine. Be sure to read through and to see what exciting new features are up next.
Article contents
−
+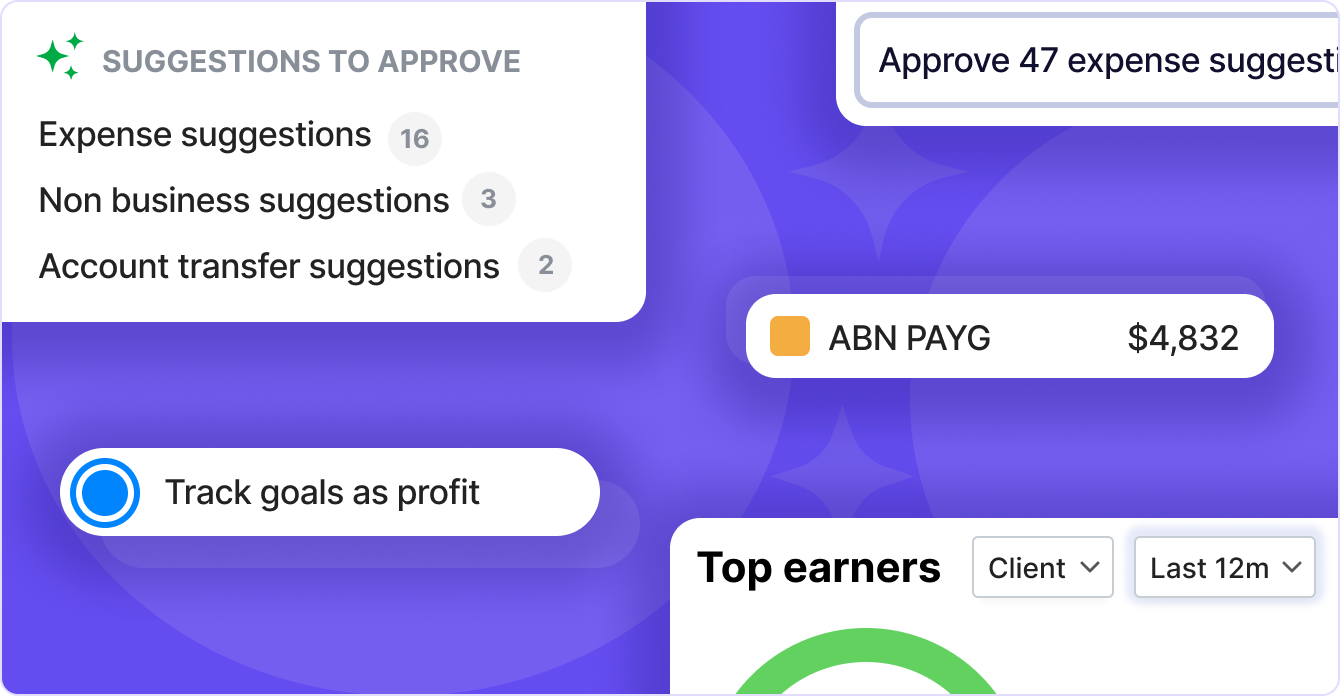 Top earners by date range
On the dashboard the "Top earners" chart can be set to show data for a particular date range. Keep an eye out, the "Top expenses" will get the same treatment in the next week.
Track your goals as overall profit
Your goals on the dashboard can now be set to track overall net profit instead of income only. GST is also now excluded when calculating your goal progress.
ABN PAYG figures on the dashboard
If you're registered for GST, the PAYG contributions recorded on your BAS will now be taken into account when calculating your final tax estimation. This means your PAYG total for the financial year will be subtracted from the estimated tax amount.
Search item templates on your invoice
Got a lot of item templates? You can now search for a particular item when creating your invoice.
Filter bank feed transactions by suggestion type
Suggestions within the bank feed will now be applied to "other" transactions, such as non business or tax payments. Suggestions can also be filtered by suggestion type, this provides a clearer view of the available suggestions.
Bulk approve bank feed suggestions
While suggestions save a lot of time over manually reconciling each transaction, it can still be a little tedious to approve a lot of identical suggestions. That's where the bulk approval function comes in handy. To bulk approve suggestions, filter your transactions by a suggestion type, i.e non business, and click the "Approve..." button in the top right.
Filter bank feeds by custom date ranges
Last but not least, bank feeds can now be filtered by custom date ranges.
What's coming up?
There's a number of big updates in the works:
New dashboard
You'll notice a few more big improvements to the dashboard in the coming weeks, including a fresh coat of paint.
Medicare levy
No one likes surprises at tax time, that's why the Medicare Levy will soon be included in your financial year tax estimate. The levy will be adjustable to suit most situations, including an exempt status.
Superannuation contributions
This one has climbed up our feature request board very quickly! Superannuation contributions are not only a great way to save for retirement, they can be used to reduce your taxable income. We're working on a dedicated section for super contributions and incorporating those into your income tax estimate.
Subscriptions
The initial stages for subscriptions are underway, this will allow you to automatically charge your clients' card at regular intervals.
That's it for now. Until next month!
Grant
---
Join newsletter
600) ? true : false" >
ABOUT ROUNDED
Invoicing and accounting software for sole traders. Get paid faster and relax at tax time.