How to make a freelance portfolio (with examples)
As your freelance career progresses, you'll have a history of successful projects under your belt. Here's how to turn these projects into a digital portfolio that will help you gain more customers and grow your business.
Article contents
−
+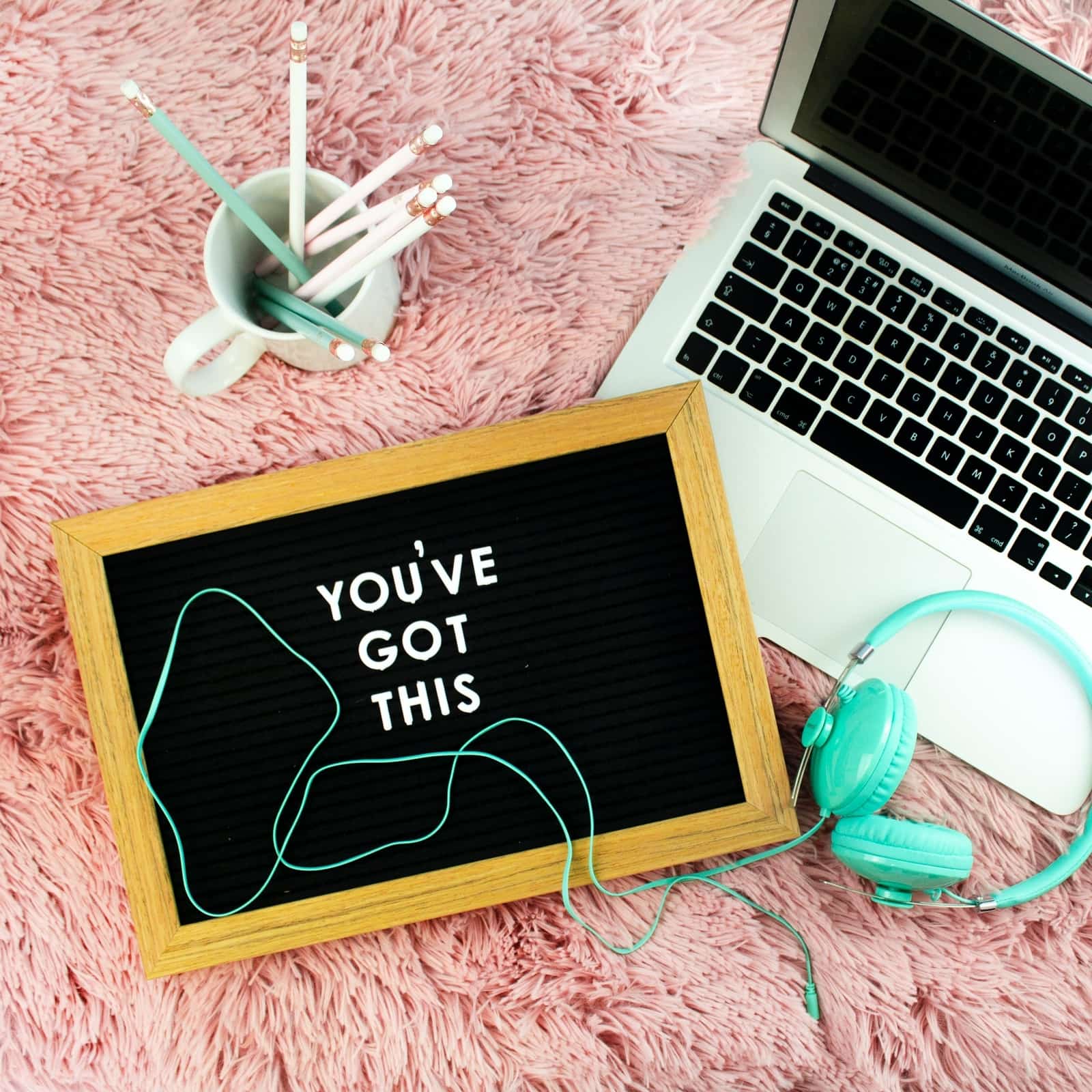 When you're looking for new clients, you can bet that your prospects will want to see examples of your previous work. Life will be much easier if you have a single place where you feature all of the examples you're most proud of.
But what kind of work should you show in a portfolio? How do you go about getting approval from clients to show that work? What if you're new to freelancing and don't have much to show in your portfolio?
This article answers all those questions, and we'll give you some examples of truly excellent freelancer portfolios for inspiration.
What are the most important elements of a freelance portfolio?
Portfolios are like snowflakes—each one will be unique depending on the type of work you do and what kind of clients you're looking for. But there are still a few elements that should be part of any portfolio:
Your work with YOUR name attached to it
It's a no-brainer that your portfolio needs to contain examples of your work, but it's important that all or most of those examples are clearly linked to your name.
This doesn't mean that you can't show work that you created as part of a collaboration, or while working at another job. But you don't want to run the risk of passing off anyone else's work as your own, so be sure to highlight exactly what parts of any given project were your responsibility.
Make it visually compelling
For some professions, like freelance graphic designers or photographers, it's obvious that your portfolio will be visually compelling. But even for contractors, writers, coaches, and others who work in less aesthetic fields, it's important to find a way to make your portfolio pleasing to the eye.
This may mean including photographs of yourself on the job—meeting with clients, for example, or a construction site you worked on. If you are including written samples as part of your portfolio, you can use a tool like Canva to create a nice image that reflects the piece of writing, so you aren't just presenting a wall of text.
Background information on each item
It's a good idea to provide some context around each item you share in your portfolio so that anyone browsing the content understands exactly what it is you do. Include who the project was for, what work you completed, and if possible, what the results were.
This means if you are a graphic designer sharing some logos you made for clients on your portfolio, each logo should also feature some text about who the project was for, and perhaps a quote or two from the client showing how pleased they were with the work.
Easy to find and navigate
You want your portfolio to shine, which means you need to host it in places that are easy for potential clients to find. If you have a freelancer website, for example, you should dedicate an entire page to your portfolio, and feature that page in your main menu.
In addition to making it easy to find, you also want to make it easy to navigate. You'll want to organise your portfolio into sections (like "Logo Design" and "Infographics" for a graphic designer), and make it easy for the user to go from one section to the next.
Updated with your most recent work
As your freelance career progresses, you'll have more work you can show off on your portfolio. It's important to return to your portfolio every few weeks or months and update it with anything new and impressive that you've put together.
When you put together these kinds of updates, take a moment to let everyone know—you can post updates on your social media, or send a note to your existing clients or email list showing them the new examples.
Portfolios vs. Case Studies vs. Testimonials
Before we dive into how you can build your own portfolio, let's clear up a common question: What is the difference between a portfolio, a case study, and a testimonial?

A case study is typically a review of a specific project or client relationship, highlighting your approach to solving a specific problem and the results you brought in. (Check out our article on how freelancers can use case studies to grow their business.)
Testimonials are statements from your clients or customers about your business. They can be simple quotes, customer reviews, or even video statements from your clients.
A portfolio is a collection of examples that show your work. Your portfolio can contain testimonials or case studies, but it must also include the actual work itself—links to articles, a gallery of photos or designs, etc.
How to build a portfolio when you're just starting out
When you're first starting out as a freelancer, you might be wondering how you can possibly put together a portfolio that will impress future clients. This will take some creativity, but here are some ideas on how to navigate this tricky issue.
Even if you haven't had any paying clients, you still may have material you can use to build the foundation of your portfolio. Think about previous jobs, volunteer positions, internships, or even pet projects you've worked on. There is no rule that says a portfolio can only include paid work, so don't hesitate to use these examples if you can.
If you do plan to list work from previous jobs, it's always a good idea to ask permission before you do so. You don't want to burn any bridges by listing work that someone hasn't approved. All you need to do is send a short note to your previous client or colleague, saying something like, "I really enjoyed the time we worked together on _______. As I'm now working as a freelancer, I was hoping I could use some examples on my website?"
If you aren't able to come up with enough examples from your previous work, then it may be time to do something on your own. If you're aiming to become a freelance writer, you can write a few blogs just for fun and post them on a free site like Medium, or directly on your website.
Tools you can use to build a portfolio
Once you have the examples you want to use in your portfolio, how do you actually show them to clients? Fortunately, there are a number of tools you can use to put together a professional, organised, visually appealing portfolio.
WordPress, Squarespace, or any Site Builder
Ideally, you will host your portfolio on your freelancer website, so that it's easy for clients who are browsing your services and prices to easily find examples of your work (and vice-versa).
Most of the big website builders out there, like WordPress, Wix, and Squarespace, make it easy to build a portfolio right on a web page within your site. In fact, all of these services have portfolio templates to get you started—all you need to do is choose a layout you like and update it with your own branding and examples.
Portfolio builders like Krop and Adobe Portfolio
Maybe you don't have a freelancer website yet, or you intend for your website to mostly be a portfolio. In such cases, you may want to use one of the third-party tools out there that are specifically for making simple, beautiful portfolios for the web. Here are a few options to get you started:
Adobe Portfolio

Krop

Fabrik

Cargo
LinkedIn, Medium, and other places to show your work
Having a portfolio on your website is a good idea, but if you profile your work in other places, you'll have a better chance of reaching and impressing potential clients who haven't yet come across your website.
For example, LinkedIn allows you to upload examples of your work right into your main profile. Similarly, you can use Instagram stories (saved to your profile) to show your work, or upload examples of your writing to websites like Medium or Hubpages.
The more places you showcase your work, the more likely you are to find new customers who are so impressed, that they want to pay you for your services.
Freelancer portfolio examples for inspiration
Hopefully, by now you know what should go into your portfolio, and you've narrowed down what tools you can use to show your work. But if you want some examples from freelancers who are already using their portfolios to bring in business, check out some of these great examples:
Esse Copy | Copywriting Portfolio
Freelance copywriter Shanel Masih features a large body of her work on her website. Each item is clickable, giving the reader more information on the project and more images to peruse.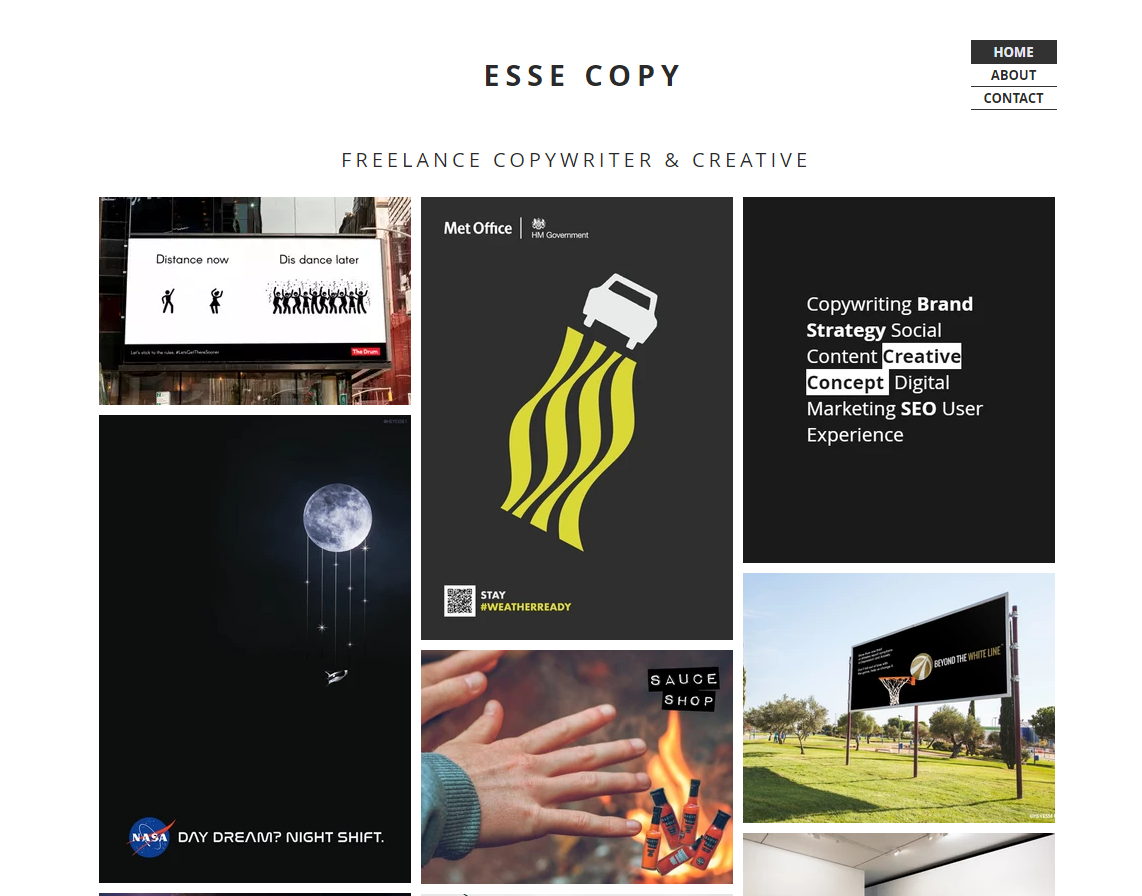 Art director and designer Mekhi Baldwin does a wonderful job showing the different projects he's worked on, with a big visual impact and a nice explanation of each item.

Visual content producer Vinayak Hegde integrates showreels of his work throughout his website. These quick summaries allow clients to get a snapshot of his work and his approach to visual content.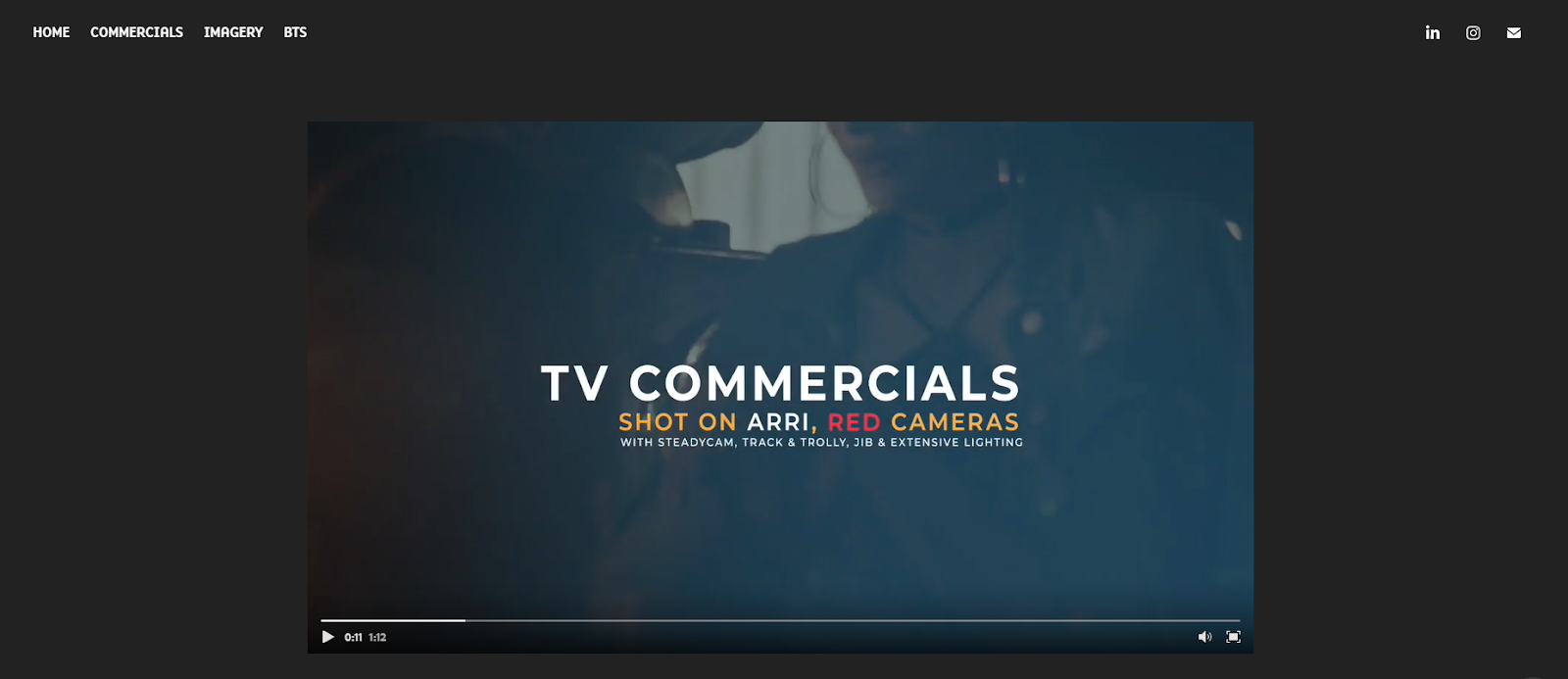 The guys behind the design and branding studio Two Wolves Creative have done an excellent job of using their visual case studies as their portfolio. Each item on the page opens up to a full case study, which helps their potential customers understand how their business works.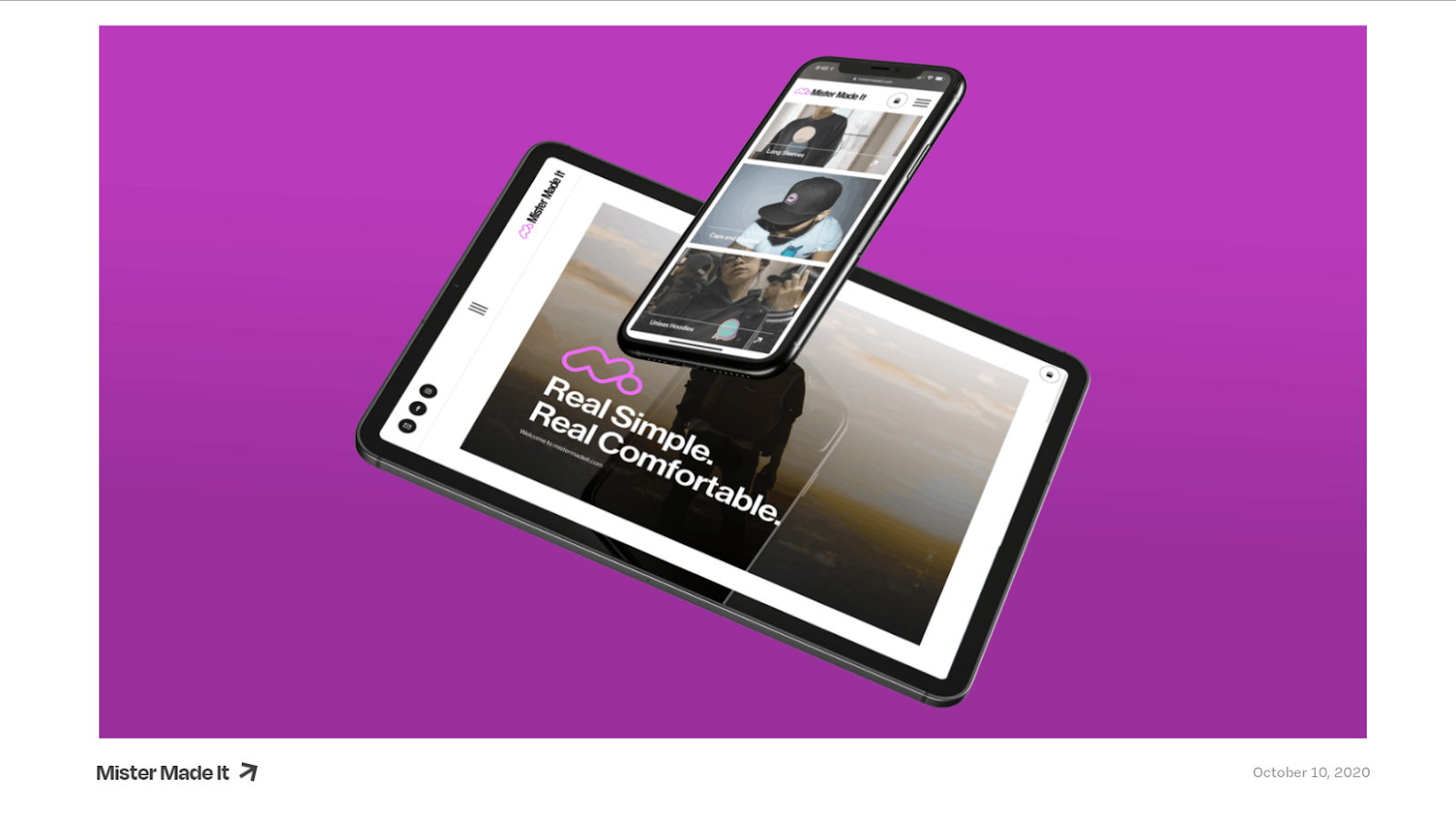 Mira Anamae | Freelance SaaS Writer Portfolio
Mira shows her clients her versatility as a writer by pulling in examples from different areas—former client work, her own projects, and her personal blog.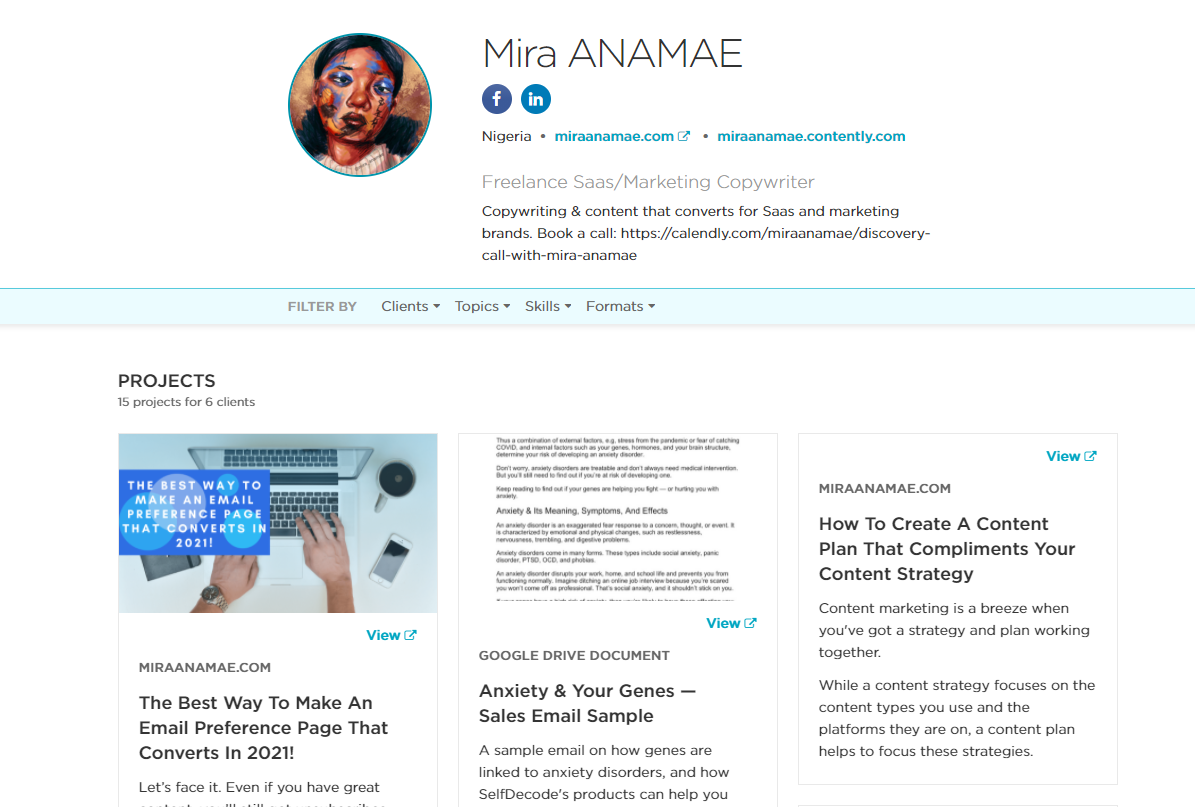 Final Thoughts: Getting your portfolio off the ground
Your portfolio will be one of the most valuable tools you have as a freelancer. Even if you only have a handful of projects to showcase now, starting on your portfolio sooner rather than later will make life easier as you get your career off the ground.
For more guidance on marketing yourself as a freelancer, check out our articles on developing a strong USP, improving your pitch-strike rate, and using SEO to boost your business.
---
Join newsletter
600) ? true : false">
ABOUT ROUNDED
Invoicing and accounting software for sole traders. Get paid faster and relax at tax time.