Looking for an alternative
to Xero?
Thousands of Australians find that Rounded is more affordable, and made just for their freelancer and sole trader needs.
Get your tax done in hours, not days or weeks

Simple and easy to use

Made for Australian freelancers and sole traders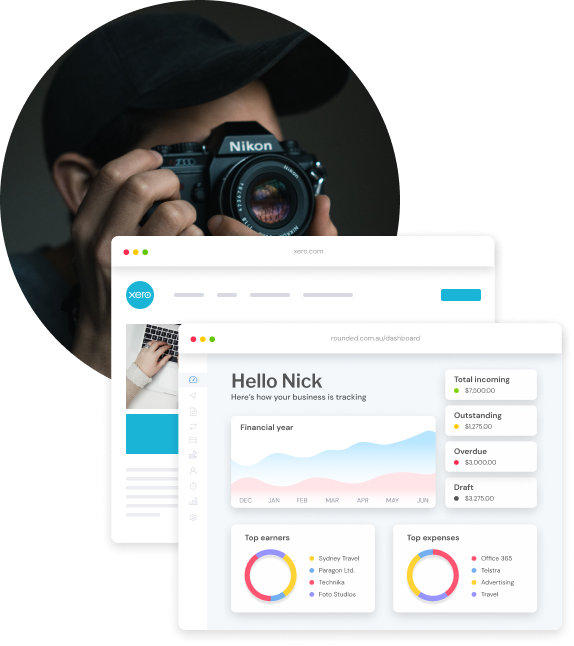 The
simplest

accounting software you'll ever use
It's easy on the brain, we promise
You can make the most of Rounded right from the start.
Real-time support from real Aussies
Got a question? We respond in minutes.
No payroll or complicated extras
Pay for the tools you need — nothing more.
Our customers
love

us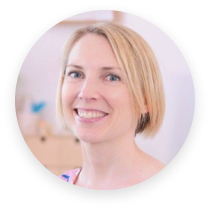 It appealed to me straight away as a designer. You can tell it's made by a creative for creatives. It only has what a freelancer needs.
Sarah Lawrey, Graphic Designer
More reasons

to choose Rounded over Xero
Unlimited

invoicing and payments

Send beautiful, branded invoices in minutes — without limits . Accept online payments and get paid faster.
Easily create branded invoices

Send multi-currency invoices and accept credit card payments online

Automate awkward overdue invoice reminders to clients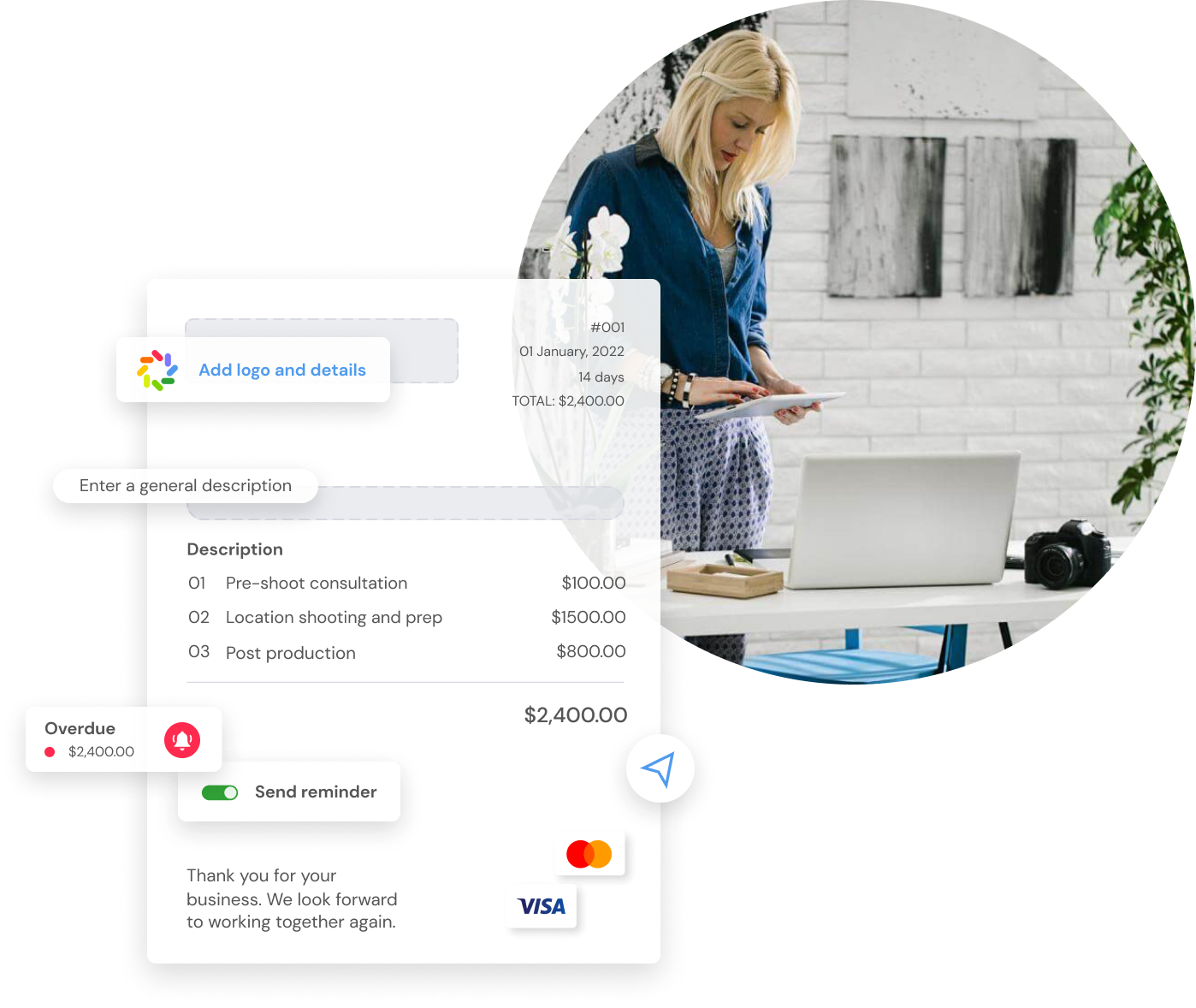 Say bye

to stressful tax time

Rounded is specifically designed for the Australian tax and GST system. Get all the reports you need — without late nights and weekends.
All the data you need in just a few clicks

Estimate income tax — so there's no nasty surprises

Securely share data with your accountant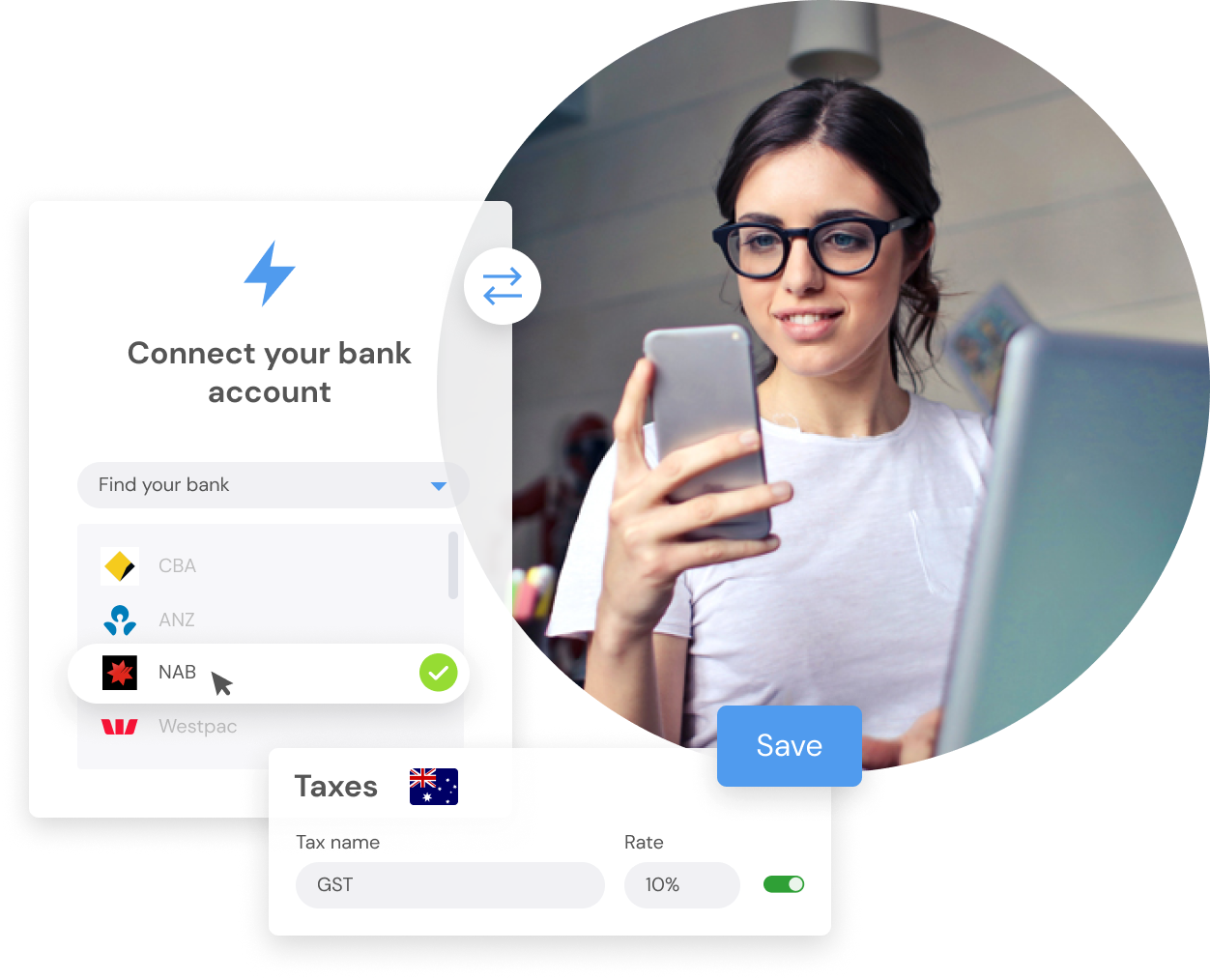 Easy

expense tracking

No more paper receipts. Know exactly where your business stands.
Connect your bank account and automate expense tracking

Snap and store pictures of your receipts

Quickly see your top expenses — and decide what you can cut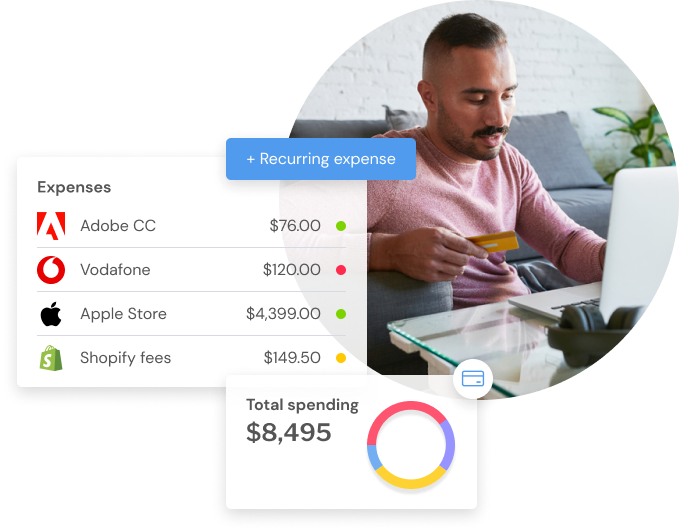 Michael Osborne
Voice Actor
The best accounting software I've ever used for my business!

Melissa Gerke
Freelance SEO Copywriter
I thought I was quite happy using a spreadsheet for my accounting, but for Australian freelancers, it is so much better. It links to my bank account, helps me with tax and also accepts credit card payment. It makes me look more professional.

Naomi Lewandoski
Vocal Coach
Easy to use, support is immediate, friendly and fixes the issue. Rounded has made my account keeping so simple with everything in one place.

Patrick Jones
Photographer
I had doubts that I'd find a better accounting app in Australia, but Rounded has proved me wrong. All the features I need are there, including Stripe for invoice payments & reporting for tax time. The app is well designed, packed w/ features & easy to use.

Richard Le Bas
Sabel Customer Success Solutions
Great app and very easy to use. Allows me to do what I need on the road and access and send invoices as well as recording expenses. Amazing support from the Rounded team too.

I have recommended Rounded to a number of people and have actually shown them how it all works; I can't speak highly enough of this very accessible software particularly for small business owners.

Simon Woodard
Web Developer
Great app. Simple to keep track of business finances.

Justin Valentino
Photographer / Videographer / DJ / Music Producer
Stumbled upon Rounded when searching on Google. First of all, their support and customer service is some of the best I've seen! I'm a bit of noob with all this stuff but they make it super easy and simple to follow 🙂 Thanks guys!

Johnny Trinham
Trinham Technologies
I'm no book keeper so I love the simplicity of Rounded, and the way it helps me to feel in control of my finances. Their support is second to none with a helpful team always at the ready. As a small business owner this is exactly what I need.

Mark Valenzia
Freelance Web Developer
The Rounded team have created an amazing app for freelancers and anyone just wanting to track their expenses and side projects. Nice UI and UX which can be hard to find these days. Two 👍👍up.

The way Rounded works just makes sense to me. The invoices are beautifully designed, the payment tracking makes sense, and the overall design of both the website and the app are delightful to use. Wow, did I just call an accounting tool delightful?

Sallie Davies
Miss Sallies Cuisine
Excellent system. The support is easy to access and they are very good and precise. I have been using Rounded for about 2 or 3 weeks now and this app saves me doing so much manual admin. Totally worth it.

I love Rounded. I appreciate the beautiful, user-friendly design which makes it so easy. The support is AMAZING. I used to forget to do it all the time but the user-friendly design actually makes it pleasant, so I feel super organised and on top of things!

Rounded has made my life so much easier! Invoicing clients is a breeze and my clients now pay me quickly. Tracking expenses as I go makes tax time way less time consuming. And as a newbie to charging GST, BAS is so simple and pain-free.

Bradley Nunn
Service Technician
Good layout, very easy to navigate through. Enjoying the experience.

Sarah Holder
Virtual Assistant
I've been using Rounded for just over 12 months now. I was nervous switching over from the free software I was using prior to that, but I needn't have been. I most certainly have seen a return on my investment in terms of time saved with my bookkeeping.

Katie Danaher
Medico-legal editor
Before Rounded my fortnightly invoicing was a headache and took far too much time. Rounded is exceptionally user friendly and the people very approachable, responsive and keen to assist with any questions that I may have. I highly recommend Rounded.

Brilliant. Easy and works well. My accounting, invoicing and tax has never been easier.

Chris Rulewski
Singer and Songwriter
Perfect for a sole trader business. Easy to learn. Easy to use and has a similar experience between desktop and mobile.

Jo Ross
Blue Wren Creations
Fantastic accounting app! It's such a stress relief! The invoicing system is simple easy and just works! Connection to my bank account is flawless and it makes reconciliation a breeze. I highly recommend this app for any small business!

Debbrah Oxby
Transformation Coach
Rounded awesome. It is easy to use and the tech support is outstanding. They are also open to suggestions. Highly recommend for sole traders or small business.

Love it, love it, love it. Rounded is the most easiest to use. I've used Xero wasn't happy with it. NOW on top of the world. The staff behind it are amazing, they answered all my questions I had. Thank you ladies and guys. Best ever app

Dr Sonja Vanderaa
Trauma and Behaviour Consultant
Rounded has saved me so much time! Turning quotes to invoices and receipts is simple. The bank feed helps me track expenses and income. With Rounded, I feel like I have a colourful and brilliant personal assistant.

Laura Russo
Freelance Editor and Writer
Fees are comparatively low and save me SO much time that it actually saves me money when compared to the tedious hours I used to spend fiddling around with Excel spreadsheets. I feel super organised and confident with my finances now.

Missy Dempsey
Graphic Designer
Rounded has streamlined my invoicing, quoting, tax and general accounting – my only regret is that I didn't hear about this product sooner! Before Rounded I dreaded EOFY, PAYG and every other ATO related acronym that comes with being a sole trader.

Nik Babic
Real Photography
Cannot recommend Rounded enough! They explained how the software works and answered my questions within 2 mins. These guys go over and beyond to deliver the best possible experience. Easy to set up and i use as a sole trader! 11/10 highly recommend Rounded!

Jennifer McKee
Environmental and Agricultural Consultant
Simple to use, everything you need to manage your accounts, invoices and projects.

I find Rounded easy and intuitive to use. It's the perfect match for my small sole trading environment. Great, responsive support from the team too. Highly recommended!

Leonie Waldron
Chameleon Copywriting & Content Marketing
Just brilliant. Does everything I need as a sole trader. No complicated rubbish, just the important stuff you need to keep your business running. Great support too. Highly recommended for Aussie micro businesses.

Olivia Ferraro
Marriage celebrant
I need an accounting program that is straight forward and efficient. Rounded joined my party and boom, invoices and keeping track of my finances didn't feel like a chore. Seeing everything in one place, has been a game changer.

Has changed my accounting game! Perfect for sole traders. Easy to use & can do everything from my phone or computer. Highly recommend!

Sarah Turner
Camera Assistant
I found Xero far too complicated and expensive for more than 5 invoices per week - Rounded has it all - for just a small yearly fee - instant help online chat, simple user interface and they take suggestions seriously and update the program as they go.
Migrate your data in
minutes
We know switching systems can be a pain. That's why we've designed an import tool that can transfer years of data from your old accounting software in just minutes. You'll be ready to start using – and mastering – Rounded in no time!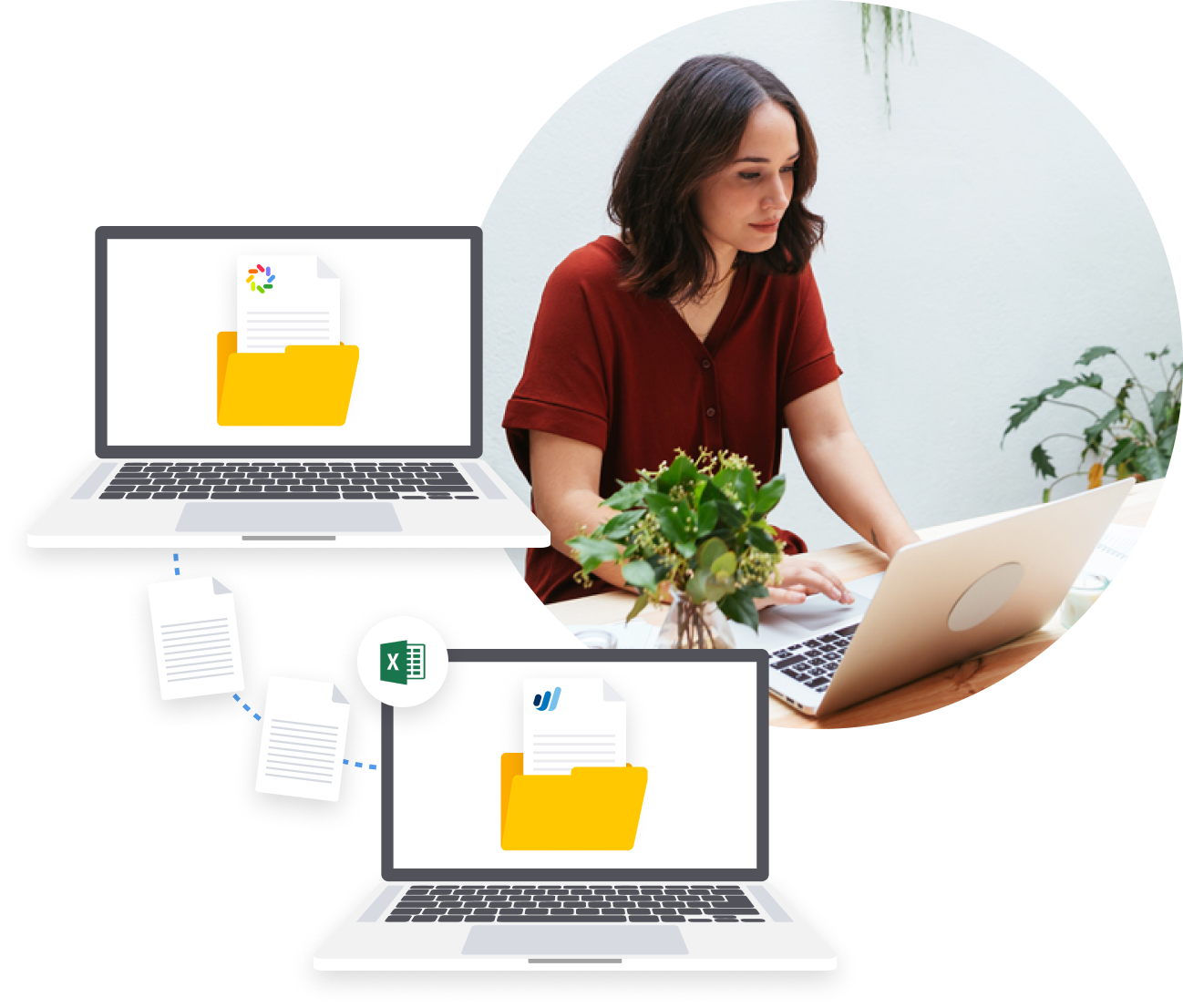 Got any more questions?
We'll respond to your questions within the hour!
Still not convinced Rounded is right for you?
See the difference

for yourself!
14 day free trial.
No credit card required.