Published August 2nd, 2016
Making our roadmap public
As of today we have a public roadmap on Trello. Why are we doing this? I spend a good part of my day answering questions from our customers or people interested in using Rounded.
The majority of these questions are a variation of "Are you going to build feature X or Y". Often this feature (or lack thereof) is the difference between someone signing up for a trial or joining us as a paid customer.
And these are just the users who bother to ask. It scares me to think how many more would be lost because they simply didn't know if we were going to build something that's useful to them.
Also from a user's perspective, if I'm paying a monthly subscription I expect some insight into what I can expect in the future.
What are the benefits of a public roadmap?
Connecting our users
We've got amazing users and I've often thought about how they could benefit by being connected. While I've got grand designs on that in the future, opening up a Trello board is a small step in that direction. It will allow our users to participate in a shared environment outside of our app. Who knows what will happen!
We'll be more effective
I'm not going to lie, our team has invested plenty of time in features I thought would be valuable but received little use once in the wild. We've since gotten a lot better at this by tagging user conversations with feature requests in Intercom (an app we use to help us interact with our users). The most requested features always bubble to the top. A public roadmap will allow us to take that even further and get combined community feedback before I even start designing.
Further transparency
In my last post I shared our tech stack and running costs. Obviously I'm a huge believer in transparency, maybe not to the extreme of some companies but being open and honest builds trust, makes you more relatable to your customers which inevitably builds better products.
What are the downsides?
Every time you make something public you burden yourself (and your team) with further responsibilities and anxieties.
Getting copied
The obvious concern is handing a crystal ball to your competitors. Though when you look a little deeper this argument quickly falls apart at the seams. In software, especially in B2C SAAS, if your only competitive advantage is feature X or Y then you're doomed anyway. Any decent feature you release will be copied. That you can be sure of.
With utility apps like invoicing and accounting, the end result (the feature) isn't anywhere near as important as how the user actually gets there. A frictionless, intuitive experience is more valuable and much harder to copy than the feature itself.
Actually doing it
It's another public asset to maintain and it will require time. A baron piece of digital real estate with our name on it doesn't look good. Though I've always found maintenance is quite easy to do if it's an asset that actually brings value and drives the product and company forward. For the reasons above I'm confident this won't be an issue.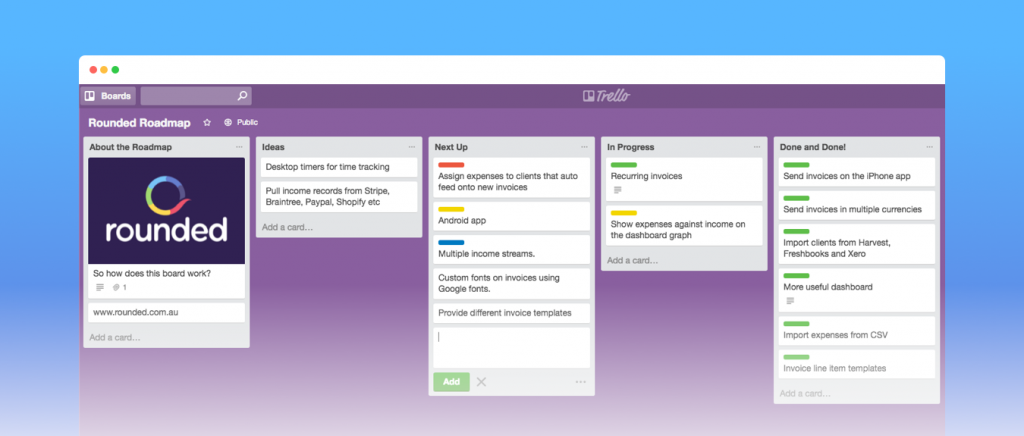 How does it work
I plan on keeping this pretty high level and not delve too deeply into the details of each feature. This is something that needs to be simple to use and maintain. We chose Trello for this reason – it's a simple card based system that you can sort into lists. We went with the following:
Ideas
Things we're not committing to that would be cool to explore and might add some value.
Next up
Features we are committed to bringing to life.
In Progress
What we're working on right now and you can expect to see in coming product updates.
Done and Done
The feature is completed and available right now in Rounded.
Your turn
I'm really excited about including our current and potential customers in our product journey. So please drop by and let us know what you think!
Join newsletter
600) ? true : false" >
ABOUT ROUNDED
Invoicing and accounting software for sole traders. Get paid faster and relax at tax time.