Free invoice templates

for Australian freelancers and sole traders

Download customisable invoice templates for Word, Excel and
Google Docs. Present yourself professionally and get paid sooner.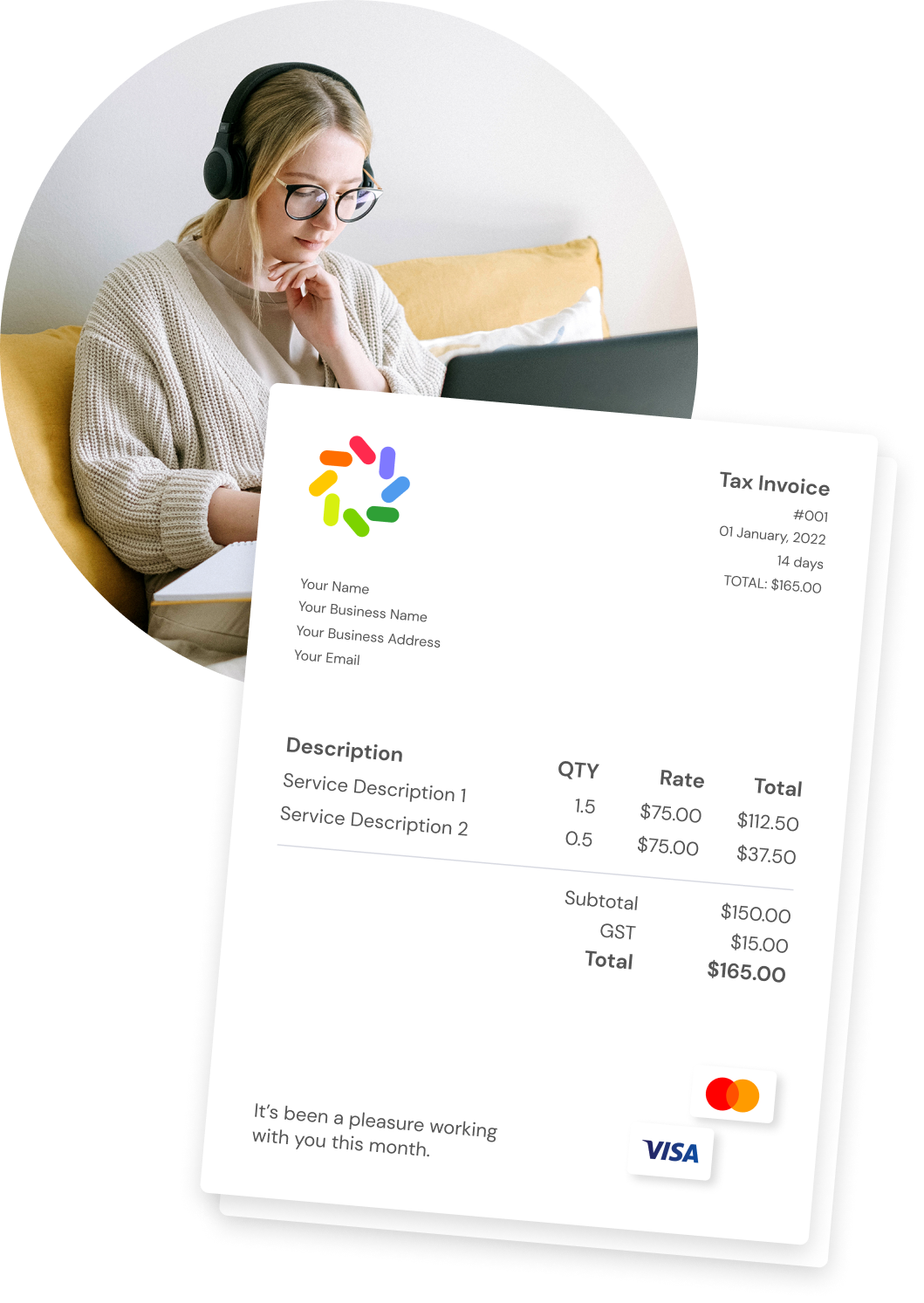 Rounded
vs.

Free Invoice Templates

A free invoice template is great when you're starting off as a freelancer or sole trader. But as your business grows, and you're sending out more invoices, it helps to have invoicing software on your side to take care of all the boring, time-consuming stuff.
Here's how we compare
Send out a customised, branded invoice in minutes
Rounded
Free Invoice Template
Create an invoice email template, so you don't have to write the same email again and again
Rounded
Free Invoice Template
Invoice in any currency
Rounded
Free Invoice Template

(if you do it yourself)

Automatically calculate GST
Rounded
Free Invoice Template
Automatically send recurring invoices
Rounded
Free Invoice Template
Create and send invoices on mobile
Rounded
Free Invoice Template

(but it's harder)

Take deposits, and just deduct the amount from your invoice
Rounded
Free Invoice Template
Assign expenses to clients and automatically put them on their next invoice
Rounded
Free Invoice Template
Accept online payments through PayPal or Stripe, making it simple for clients to give you money
Rounded
Free Invoice Template
Automatically send a friendly reminder for overdue invoices
Rounded
Free Invoice Template
Easily keep track of your taxable income alongside your expenses
Rounded
Free Invoice Template
All your questions about invoicing in Australia – answered
Whether you're just starting out as a solo business owner or you just need a quick refresher, here's everything you need to know about invoicing
Do I need to invoice as a sole trader?
Invoicing is a must if you are a freelancer or sole trader. Not only is it how you request payment from your clients, but it also allows you to keep records of your income for tax purposes. The ATO requires you to keep your receipts and financial records for at least 5 years.
What should you put on an invoice?
These invoice templates make it easy to include all of the correct information on your invoices. But just in case you have more questions or would like to create your own templates from scratch, we've broken down each element of a proper invoice.
Regular invoice format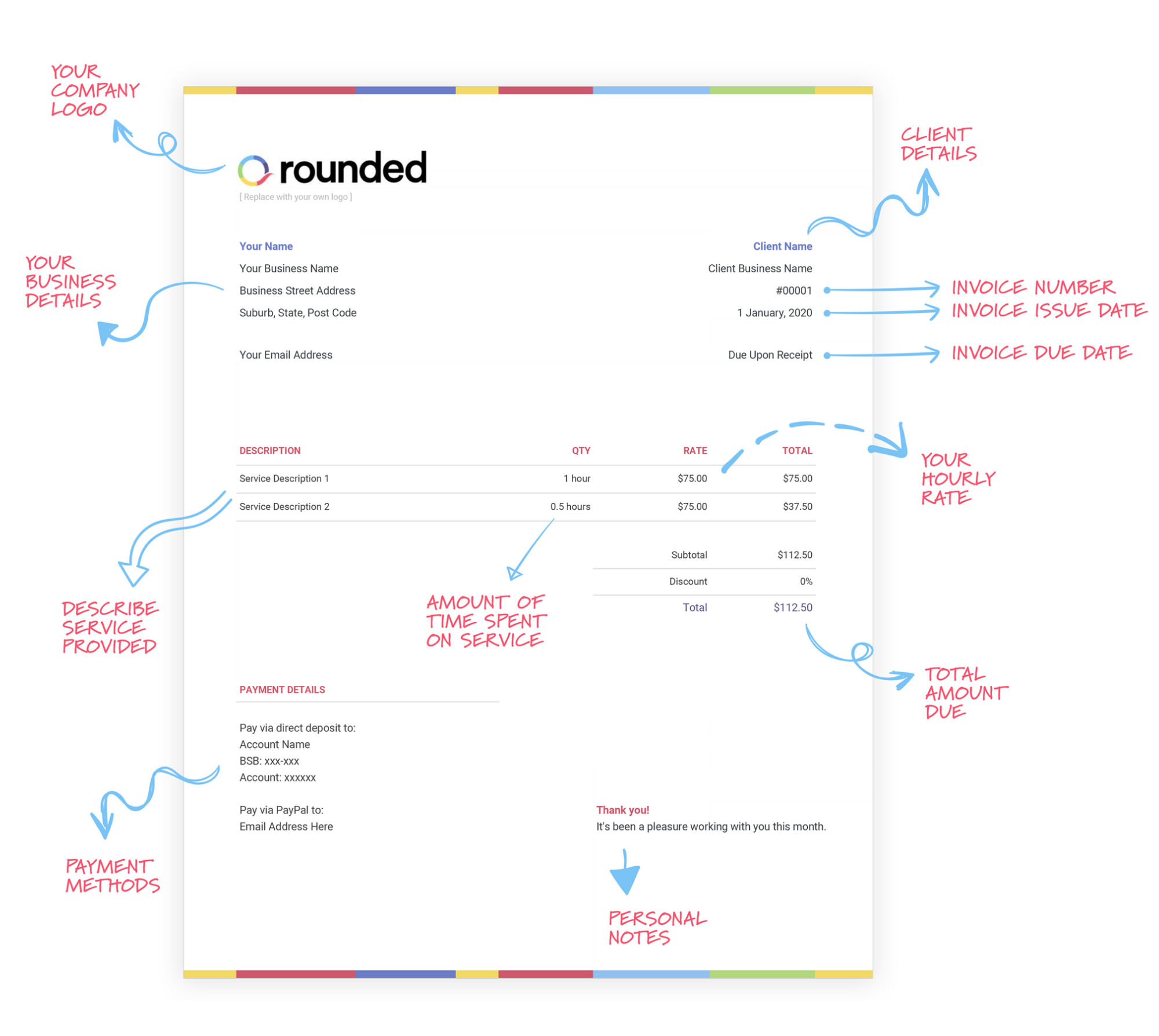 Business Details
Essential details you must include are:
Your name

Your business name (if you're registered as a business)

Your business address (most likely your home address)

Your email address

Your ABN
Invoice Number
Every invoice you create needs to have a unique number. Typically, your first invoice will be numbered as #00001, and so on. You should never repeat numbers, even if you cancel and reissue an invoice.
Date and Due Date
You'll want to include both the date the invoice was issued and when you expect to be paid. For immediate payment, just put "Upon receipt." You can also stipulate a specific date or time frame, such as "Within 7 days of receipt." For Rounded users, you'll be able to automatically send a polite reminder after a certain number of days if a payment is late.
Description of Work
Describe the work you undertook for your client in detail. If it's something you do on a recurring basis, you can write something like "Blog Writing Retainer, July 2022". If it's project-based work, clearly write out each task you're charging for. For example, you may include something like, "Restaurant Photography Shoot - Day Rate" as well as "Photography Editing - 4 Hours."
Pricing
Next to each item on your invoice, you'll need to list the price. Be sure to list the currency as well (such as AUD, USD, or GBP). At the bottom of this section, include the subtotal of all items on the invoice.
If you give a client a discount, list it here as well and subtract it from the subtotal. This is also where you can add any late fees, if applicable.
Payment Details
Toward the bottom of the invoice, include the best methods for your client to submit payments. You can list your bank details for direct deposit, your information for services like PayPal or Stripe, or links to online payment platforms via bank card. As a Rounded user, you can set up all of this information once and have it appear automatically each time you create an invoice.
Logo [Optional]
Adding your logo not only helps your clients remember who you are but also makes your invoices feel more professional and personalised.
Personal Notes [Optional]
Leave space on your invoice for any additional notes you might want to give to your client. Many freelancers use this as an opportunity to thank clients for their business, but you can use it however you like.
GST tax invoice format
Along with everything above, you'll also need to include the following on your tax invoices.
GST
If you're a sole trader in Australia, and your client is also in Australia, you need to calculate the Global Sales Tax (GST) and list it on your invoices. GST is a 10% fee sole traders and businesses must charge if they earn more than $75,000 a year.
Title of "Tax Invoice"
Sole traders who submit invoices that require GST must include the words "Tax Invoice" on their invoices. This is a subtle but important detail, as it's something the Australian Tax Office requires. If you're not registered for GST, you can leave this off or just use "Invoice".
5 common invoicing mistakes made by Australian sole traders
Below are the most common mistakes we see from freelancers and sole traders when it comes to invoicing – and how you can avoid them.
Sending 'open' invoices
Many first-time freelancers forget to include a due date for payment, which can lead to confusion and misunderstandings. Always make sure to be clear about your payment terms – when you expect to be paid, and how.
Making it difficult for clients to pay you
On a similar note, you'll want to make it as simple as possible for clients to pay you. Consider offering multiple payment options and make sure to specify these clearly.
Time Saver Tip
Invoicing software such as Rounded, will allow clients to pay by credit card through simply clicking on your invoice. If you prefer bank transfer, you can insert your details into the footer of your Rounded template and save them for all future invoices.
Sending out incorrect or incomplete invoices
When using an invoice template, it can be easy to forget to change some information when copying and pasting. But if your invoice is missing any of the essential information mentioned above, or that information is incorrect, your invoice is invalid. You'll need to reissue it with the correct information, using a different invoice number.
Time Saver Tip
Rounded allows you to set up recurring invoices and automatically fills in the correct details, such as the date and invoice number. Not only does this mean you don't have to invoice that client every month, but you also don't have to worry about making mistakes when manually entering information.
Waiting too long to send your invoice
An unsent invoice is an unpaid invoice. You should send yours out as soon as you finish a project or, if you work on recurring projects or retainer, on a regular schedule.
Time Saver Tip
Rounded users can send out invoices in less than a minute, making it an easy task, rather than a hassle you'll want to put off. You can also automate recurring invoices so they'll be sent out each time without you even having to lift a finger.
Not following up on unpaid invoices
When you're busy with all the other work involved in being a sole trader, it's easy to lose sight of who's paid and who hasn't. But the longer you wait, the greater the chance that you and your client will forget about the invoice entirely.
You'll want to ensure you have a good system in place to keep track of unpaid invoices and send a reminder a couple of days after the due date. You may want to email the day after, or wait a bit longer – the exact time frame for handling overdue invoices is up to you.
Time Saver Tip
You can automate your follow-up process with Rounded and never forget an invoice again. Rounded will send you a notification when the due date passes and give your client a gentle reminder, so you can avoid that awkward email.
How Rounded helps with
effortless invoicing
We know you already have a lot on your plate. That's why we've built Rounded to make invoicing as simple as possible for sole traders and freelancers. With our software, you can:
Send beautiful,
branded invoices
Automatically generate invoices with your logo, branding, and personal style. You can also create different templates for any separate brands or services you offer.
Connect your time tracking
Use Rounded's time tracker as you work, then upload the hours directly to your invoices with one click.
Set recurring invoices and reminders
Set the time and date you want invoices to go out, and automatically chase up any overdue invoices.
See how easy your invoicing could be with Rounded
No commitment. No credit card.